HiLIFE
'I kept my day job'
Jim Gaffigan spent years as an accountant before making the jump to stand-up
'Hmmm ... you're not on MySpace. I'm going to Google you," mused comedian Jim Gaffigan during a telephone interview from his home in Manhattan. "Reporters get to ask all the questions, but I'm more interested in learning about the person asking me the questions," offered Gaffigan by way of explanation, clickety-clacking away on the keyboard. "I want to know what you're like and what you're really thinking. Shows you how bizarre I am."
Jim Gaffigan
On stage: 7 p.m. Saturday

Place: Blaisdell Concert Hall

Tickets: $35

Call: (877) 750-4400 or visit ticketmaster.com

On Maui: 8 p.m. July 13, Maui Cultural & Arts Center. Call (808) 242-SHOW or visit mauiarts.org
Hardly. Gaffigan has built a career playing off everyman qualities in his stand-up comedy routine and his acting career as well.
After wrapping up a 30-date Live Comedy Central tour, Gaffigan comes to Hawaii for two shows, bringing his wife, Jeannie Noth Gaffigan, executive producer of Gaffigan's Comedy Central 2006 special "Beyond the Pale," and their two children, ages 3 and 1.
The Gaffigans celebrated their honeymoon on Kauai in 2003, and are looking forward to a return trip. "I suppose there's not anyone who doesn't look forward to going to Hawaii," said Gaffigan. "Literally this trip was, 'How do we get to Hawaii and how do we get paid for it?' We had such a great time in Hawaii. It's always been a place I wanted to go from New York City, but it's a journey."
A native of Chesterton, Ind., Gaffigan's made a career of jokes about non-sensitive subjects such as Hot Pockets and cooking bacon. "Real hot-button issues of the day," said Gaffigan. "I don't work blue. Really, how can you be angry over bacon?"
Though he's been in stand-up for 15 years, Gaffigan originally moved to New York for a career in finance. "Growing up in Indiana, at age 8 I looked around and thought there must be some kind of mistake. I would watch 'The Odd Couple' for the setting and New York just seemed like an intense place. It held some allure."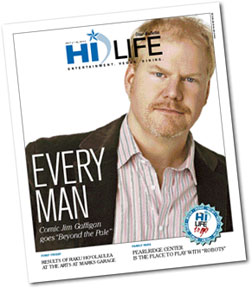 He packed up his belongings and moved to the Big Apple in 1990, working in the accounting department of advertising firms such as Ogilvy & Mather. In spite of the stable earnings, Gaffigan longed to be in entertainment, in particular acting and comedy.
He gradually approached switching careers. "I took a cautious approach. I kept my day job for seven or eight years. My friends had quit their law jobs and were living hand-to-mouth. ... I was actually the last one of my friends to do a late-night talk show by a couple of years."
That first fateful appearance was on the "Late Show with David Letterman" in 1999; through that one appearance, Gaffigan earned a spot on the short-lived CBS series "Welcome to New York."
In addition to the multiple appearances on "Letterman," Gaffigan has made repeated trips for segments on "Late Night with Conan O'Brien." Gaffigan and O'Brien also lend their vocal talents to "Pale Force," animated shorts that Gaffigan and his brother-in-law Paul Noth created for the talk show. The series, which stars Gaffigan and O'Brien as two crime-fighting heroes with a bit of a pigment problem, has its following: Twenty-six episodes are available for downloading through nbc.com and jimgaffigan.com. New episodes have been ordered for the fall.
Gaffigan's series, "My Boys," also returns to TBS for a second season beginning July 30. The comedy series was shot over a three-month period. "It's just a small part," said Gaffigan of his character, Andy Franklin. "I get a lot of 'character' acting parts, which I like to think of as the nonattractive people."