| | |
| --- | --- |
| | Island Mele |
---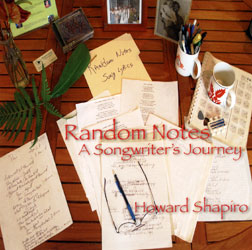 Random Notes
Howard Shapiro
(Kumanu Music KM 1010)
Howard Shapiro is a veteran composer who often writes in support of political causes or sane environmental policies. He emphasizes that side of his work here, bringing the traditions of early '60s protest singers into the new century in articulate, albeit sometimes rough-hewn, style. Political messages sometimes take precedence over pop-friendly hooks and standard meter, but the asymmetric rhyme patterns often underscore his passion in denouncing religious hatred or calling for better treatment of the world's ocean life.
A small band and several backing vocalists expand the melodies beyond the core sound of a singer and his acoustic guitar. For instance, a flute adds a light counterpoint to "Ashes Upon the Ground," one of several songs that decry the human cost of war (the liner notes show that he wrote it in 1998 and therefore it is not specifically an indictment of America's current war in Iraq).
Shapiro steps forward as a traditional American patriot with "Only Thing Worth Livin' For," and mourns the nation's apparent loss of innocence with "Sand Through Our Hands" as he recalls growing up in the '50s.
It isn't all political. Shapiro celebrates the beauty of Mauna Kea with "Silent in the Night" and honors the memory of his father with "Gentle Warrior."
---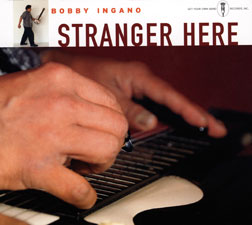 Stranger Here
Bobby Ingano
(Get-Your-Own-Band GYOB-1003)
Steel guitarist Bobby Ingano makes a welcome return with this album recorded with support from Sean Thibadeaux (guitar/vocals/ukulele) and Milan Bertosa (bass). Almost all the songs are originals by either Ingano or Thibadeaux, and while some showcase Ingano's instrumental wizardry, others demonstrate Thibadeaux's interest in vintage American pop and hapa-haole music.
Thibadeaux steps forward as the vocalist on "Three Fools" and "What's the Big Idea," two of his new old-style compositions, and interprets them as straight love songs. The mood edges into comedy on a third, "I Love You 'Cause You're You," which describes a relationship that includes slashed tires and a TRO. Fritz Hasenpusch takes things over the top as guest vocalist on "When You Fell Into My Arms" and earnestly informs the object of his affection that "when you fell into my arms, I fell out of my tree."
Despite the immediate impact of the comic numbers, Ingano's wizardry on steel ties everything together in exquisite style. Steel guitar fans will love "Stranger Here."
Ingano celebrates the legacy of Western swing as he works around the various vocalists, and as featured soloist on the instrumental tracks. An imaginative Hawaiian-style arrangement of "Rhythm of the Rain," the Cascades' big hit from 1963, is a surprising change of pace that fits in perfectly.
---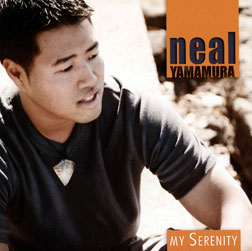 My Serenity
Neal Yamamura
(Koamea Records KR 0314)
There's only one chance to make a good first impression, and Neal Yamamura makes the most of his opportunity to step forward as solo artist with this impressive calling card. Working with local music industry veteran Wendell Ching as co-producer and co-arranger, Yamamura establishes his command of several genres -- Hawaiian falsetto among them.
He opens with a light acoustic pop rendition of "Grandpa (Tell Me 'Bout the Good Old Days)," a big hit for the Judds on the country charts in 1986, then demonstrates his abilities as a Hawaiian falsetto singer with "Pohai Ke Aloha" and "Ke Aloha." Yamamura sings a smooth style of falsetto that doesn't emphasize ha'i (the break between his upper and lower vocal registers), but that doesn't detract at all from the beauty of his singing.
Yamamura explores vintage pop material with a smooth and romantic remake of "Dream a Little Dream," pays homage to Daniel Ho with an appropriately whimsical take on "Along for the Ride," and puts his own stamp on "In This Life."
Yamamura and Ching obviously know that light pop ballads have been inordinately popular in Hawaii ever since the mid-1950s. Their versions of "Forever More" and "Stick Around" capture that vibe quite well.
John Berger
, who has covered the local entertainment scene since 1972, writes reviews of recordings produced by Hawaii artists. See the Star-Bulletin's Today section on Fridays for the latest reviews. Reach John Berger at
jberger@starbulletin.com
.