Artist Groove Network finale proves less than pleasant
COMPETITION IS a funny thing when it comes to Clubland -- there's always a fine line that promoters have to walk when it comes to the venues they work with.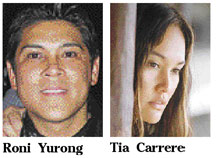 Roni Yurong was reminded of that a few weeks ago, when Artist Groove Network wrapped up its involvement in one of the W Honolulu's weekly "Wonderlounge" parties. Their final night was supposed to be June 29, but the hotel pulled the plug at the last minute.
"It is what it is," Yurong said earlier this week. "Basically, they decided they wanted to do it themselves."
Artist Groove Network promoted Fridays at the hotel for about a year and a half, taking over after Komo Low decided to bow out. The crew made the night "a bigger moneymaker," according to Yurong, but it was his new late-night partnership with Aaron's that made management uneasy.
"They felt like Aaron's was getting more promotion," he said. "(Leaving the W) is the best thing that ever happened to us."
While Yurong will now focus his energy on Fridays with Peter Maharaj and comedian Augie Tulba, he's turning the rest of the Artist Groove family loose on Saturdays with Goldenchild Entertainment to produce the "Mad Hatter Stylish Tea Party." That night aims to capture the same atmosphere they brought to the "Wonderlounge" parties.
"With their energy, the Saturday party is going to be raging," said Yurong. "Last week, they did 600 people" ...
AFTER A busy weekend of appearances around Honolulu, Tia Carrere and Daniel Ho enjoyed one last celebration Monday night at the Outrigger Waikiki.
The hotel hosted a private dinner, followed by an intimate performance of songs off Carrere's new album, "Hawaiiana." Neither Carrere or Ho actually ate, however, as Ho played piano throughout most of the meal and Carrere wisely refrained until after she was done singing.
And sing she did -- Carrere's voice is strong, yet sultry, and you can tell she has a lot of respect for the Hawaiian songs she's chosen to record. I was impressed with her live rendition of "Ku'u Lei 'Awapuhi," and I got a kick out of her version of "Hi'ilawe."
Others in attendance on Monday included Outrigger Waikiki GM Jim Heather, KHNL news director Dan Dennison, Al Waterson, Emme Tomimbang, Hawaii Public Radio's Derrick Malama and Katie McClellen, Cox Radio Hawaii's Mike Kelly and Alan Yamamoto, Hawaii Film and Video Magazine editor Tim Ryan, Visionary Related Entertainment's Lilly Yamachika and Kimo Kahoano ...
FRIDAY'S PICKS: The Malcognitas headline the last "Enterprise" party at Sound|House, as the venue prepares to shut down and move to another location in Chinatown ... Go Jimmy Go teams up with buddies Warsaw Poland Bros. for a night of alcoholic debauchery at Anna Bannana's starting at 9 p.m. ... Mana Caceres returns to Chez's Sports Bar and Grill in support of his latest album, "I Be Hawaiian." Get there early and take advantage of the $5 cover charge before midnight ...
SATURDAY'S PICKS: The Mercury Bar hosts "Femme Capulet's Luck-You 777 Shindig" with improv by Improv This, live performances by Sherry Shaoling and Cherry Blossom Cabaret, DJ Jedi on the decks and an encore performance of the "Femme Capulet" fight scene ... Part-time Hawaii resident Sheena Satana returns from New York to headline "Another Bad Creation," an all-'90s theme party presented by DownTowne for Women and open to the 18-and-over crowd. Satana will share songs off her new album, then jump on a go-go stage to dance alongside Jenn R as DJ Sleeze spins until 2 a.m. ... G-Style Productions kicks off "The Curry Lounge" at Thai Sweet Basil in Manoa Marketplace this week, with DJs Lostboy and Chronkite spinning until 2 a.m. ...