---
FAST FACTS HAWAII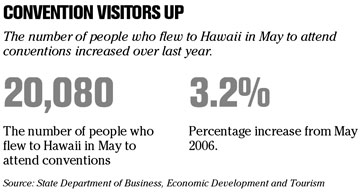 ---
[ HAWAII INC. ]
New Hires / Promotions
» Aloha United Way has announced the following new hires and promotions:
Christie Oclaray
has been hired as vice president of administration and human resources for the organization's asset management group. She will be responsible for the area's operational policies and procedures, annual budget and work plan, and assisting the president with strategic projects and initiatives.
Brett Kerr
has been hired as assistant vice president of campaign. He will be responsible for assisting in annual fundraising operations including strategic analysis, donor relations, volunteer recruitment and support, and divisional progress.
Melanie Kaaihue
has been promoted to assistant vice president of combined federal campaign from general services assistant. She will be responsible for analyzing, organizing and implementing strategies and processes for the annual CFC fundraising campaign.
Christie Miyasato
has been hired as general services assistant for the administration and human resources technical area. She will be responsible for providing general services including mailroom, copy room operations and maintaining supply and equipment order records.
» The Children's Alliance of Hawaii has named Kim Bartenstein as director of development. She will oversee the organization's seventh annual Mahealani event and Christmas Angels project, and development goals including grant proposals and Web site improvement. She previously served as event logistic coordinator for the Hawaii Foodbank.
Board elections
» Diamond Head Theatre has elected
Kelly Sanders
and
Kathleen C. Sulieman
into its 2006-2007 board of directors. Other board members elected for the season are
Patrick "Rick" Ching
,
Christina Doane
,
Joey Harris
,
Jonathan McManus
,
Lance A. Mizumoto
,
Justine Kai Romig
,
Jason Taylor
and
Vernon Wong
.
Awards / certifications
» Princess Cruise Lines has awarded
Princeville Ranch Adventures
as the 2006/2007 tour of the year for the port of Kauai. The award was given for the company's Kalihiwai Falls Hike, based on passenger ratings.
» Junior Achievement of Hawaii has recognized Finance Factors as volunteer organization of the year at its annual business meeting on June 21. The company and its employees have taught and volunteered at many JA programs and events. Also honored was Staff Sergeant Brian L'Esperance for teaching and organizing nearly 20 JA programs this past year. He is an education and training manager with the U.S. Air Force.
» Real estate consultant John Bendon has earned the leadership in energy and environmental design accreditation. The LEED is a national program of the U.S. Green Building Council that promotes standards of the design, construction and operation of buildings in the areas of sustainable site development, water savings, energy efficiency, materials selection and indoor environmental quality. Bendon is one of few professionals on Maui with this accreditation and is currently consulting with the Montessori School of Maui's new extension.
---
30-year mortgage rates drop
WASHINGTON » Rates on 30-year mortgages sank this week to a one-month low, while rates on most other mortgages also fell, good news to prospective home buyers.
Freddie Mac, the mortgage company, reported yesterday that 30-year, fixed-rate mortgages averaged 6.63 percent. That was down from last week's 6.67 percent rate and was the lowest since early June, when rates stood at 6.53 percent.
Rates on 15-year, fixed-rate mortgages, a popular choice for refinancing, fell to 6.30 percent from 6.34 percent last week. And, rates on five-year adjustable-rate mortgages averaged 6.29 percent, down slightly from last week's 6.30 percent.
However, rates on one-year adjustable-rate mortgages rose to 5.71 percent this week, compared with 5.65 percent last week.
Bausch & Lomb gets higher bid
ROCHESTER, N.Y. »
Advanced Medical Optics Inc.
yesterday offered to buy eye-care products rival
Bausch & Lomb Inc.
for $4.23 billion in cash and stock, topping a $3.67 billion cash bid by a private equity firm.
The Santa Ana, Calif.-based company put in a $75-a-share offer of $45 in cash and $30 in stock for each Bausch & Lomb share.
Bausch & Lomb said its board determined that the offer "is bona fide and is reasonably likely to result in a superior proposal." It said it planned "to engage in further discussions" but cautioned that "there can be no assurances as to whether the AMO proposal will ultimately result in a transaction."
Japanese retailer bids for Barneys
NEW YORK » Japan's
Fast Retailing Co.
has offered $900 million in cash for Barneys New York, upping an earlier bid from a Dubai-based investment group, owner
Jones Apparel Group
said yesterday.
On June 22, Jones announced it had agreed to sell the luxury retailer to an affiliate of Istithmar for $825 million. That offer was more than double what the New York-based apparel maker paid in December 2004 in its first foray into luxury brands.
The deal had been expected to close during the third quarter of 2007.
BRIEF CASE
That stinks:
The surplus cheese market is ripe for price manipulation, and that could affect the price of milk and other dairy products, the General Accounting Office said yesterday. Block cheddar cheese reached $1.95 a pound yesterday on the Chicago Mercantile Exchange, up 67 percent from $1.17 a pound a year ago.
Dell surge: Dell Inc. expects shipments of personal computers, notebooks and servers in Asia excluding China, Japan and South Korea to grow almost 20 percent in 2007 compared with the previous year, a company executive said.
Samsonite buyout: Venerable luggage-maker Samsonite Corp. has agreed to be acquired by a London-based private equity company, CVC Capital Partners, for $1.11 billion.
Media sale: Buyout specialist Wasserstein & Co. is selling ALM, a media company that publishes titles for legal and business professionals such as The American Lawyer, to Incisive Media for $630 million.
---
BUSINESS PULSE