---
FAST FACTS HAWAII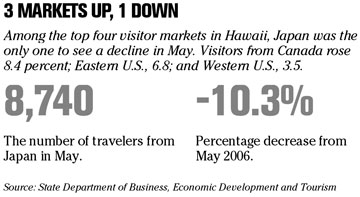 ---
[ HAWAII INC. ]
New Hires / Promotions
» Bank of Hawaii has announced the following new hires and promotions:
Robert J. Poiani
has been promoted to vice president and senior trust officer of the bank's private client services wealth team from assistant vice president and trust officer. He will be responsible for family wealth management planning and administration.
Manoj Samaranayake
has been hired as vice president and tax director of the bank's tax department. He will be responsible for operations, strategic tax planning and tax compliance issues.
Amber K. Suhas
has been promoted to vice president of the bank's private client services division from assistant vice president. She will continue her responsibilities as business development officer, which include providing clients with comprehensive wealth management services.
Ryan D. Thornton
has been promoted to vice president of Bank of Hawaii insurance services from assistant vice president. He will continue his responsibilities as account executive, which include risk management consulting and new business development for commercial insurance clients on Oahu and the Big Island.
» SMG Hawaii has announced the following new regional account managers for its Chicago sales and marketing office for the Hawaii Convention Center: Walden Agustin previously served as senior sales manager at the Hilton San Francisco. He has 10 years of sales and management experience with Hyatt Hotels. Julie Mullins Scuras previously served as director of association sales for the Chicago Convention and Tourism Bureau. She has more than 17 years of experience in the convention industry.
» Hawaiian Telcom has hired Yvonne Yanagihara Goss as retail sales manager. She will oversee the company's eight retail stores statewide. She previously served as regional director of Hawaii for T-Mobile USA for 10 years.
» Hawaiian Airlines has named Rick Peterson as vice president of marketing and sales. He previously worked as vice president of e-commerce since March 2006 and has served the company since 1987.
» Maui Land & Pineapple Co. has named Karee Carlucci as communications manager. She will be responsible for assisting the director of corporate communications with strategic development and implementation of internal communications programs while supporting external communications efforts. She previously served as executive director of LahainaTown Action Committee.
---
EBay introduces Web classifieds
SAN JOSE »
EBay
, the Internet auction leader, has quietly introduced a new online classified advertising service in the United States.
The new service, called Kijiji, pits eBay, based in San Jose, Calif., against a company it partly owns: Craigslist, the San Francisco-based company that manages classified ad sites for 300 cities, which attract 12 million new ad listings each month. EBay bought a 25 percent stake in Craigslist in 2004.
Kijiji, which means "village" in Swahili, is one of eBay's several classified advertising efforts outside the United States. It is the market leader in Canada, Germany, Italy and Taiwan.
Western Mining IPO raises $816M
HONG KONG »
Western Mining Co.
, a Chinese producer of zinc, copper and lead, raised $816.4 million from an initial public offering in Shanghai to raise funds for expansion and pay debt.
The company, based in Xining, Qinghai, sold 460 million new shares at 13.48 yuan each, it said in a statement yesterday. That's the top end of the 12 yuan to 13.48 yuan range given July 2. UBS AG's joint venture in China arranged the sale, the first in China for Europe's biggest bank by assets.
China's demand for raw materials is growing along with the economy, which expanded 11.1 percent in the first quarter, driving commodity prices higher. Western Mining plans to use the proceeds to fund upgrades to existing plants, pay for takeovers and repay bank loans, according to the sale prospectus.
Pakistani banker denies charges
Karachi, Pakistan » Pakistani investment banker Ajaz Rahim, indicted Tuesday by a U.S. grand jury, denied that he traded shares of
TXU Corp.
and other companies with inside information and said his lawyers will contest the case.
Rahim, 44, dismissed allegations he conspired with former Credit Suisse banker Hafiz Muhammad Zubair Naseem to make illegal trades, operated a brokerage account for his fellow Pakistani national or exchanged e-mails with him about U.S. stocks.
Rahim, former head of investment banking for Faysal Bank Ltd. in Karachi, and Naseem, who worked at the New York office of Zurich-based Credit Suisse, were named as defendants in a 26- count indictment filed Tuesday in federal court in Manhattan.
BRIEF CASE
Near 18-year high:
The Australian dollar traded near an 18-year high against the U.S. dollar and the strongest in 16 years versus the yen on speculation investors were attracted to the nation's higher yielding assets.
Euro near record: The euro traded near a record high today against the dollar and the yen on speculation the European Central Bank will keep interest rates at a six-year high and signal at least one more increase this year.
Japanese shares rise again: Japanese shares rose for a sixth day, led by Sony Corp., on speculation the yen's slump against the dollar and euro boosted profits in the three months ended June. Retailers climbed, led by Seven & I Holdings Co., after companies including Aeon Mall Co. reported higher income in the first quarter.
Cable charge: Cable companies are planning to charge more for set-top boxes to help pay for new, more expensive ones mandated by the U.S. Federal Communications Commission.
---
BUSINESS PULSE