| | |
| --- | --- |
| | Newswatch |
---
NAVY BAND SERENADES INDONESIANS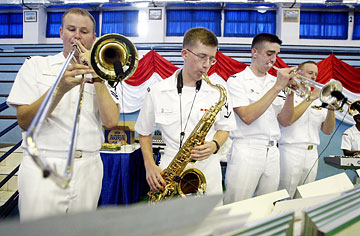 3.7 quake hits Big Isle coast
An earthquake of 3.7 magnitude jolted the Hamakua Coast of the Big Island yesterday.
The 12:28 p.m. quake was centered about a mile west-southwest of Honomu and 10 miles north-northwest of Hilo, according to the U.S. Geological Survey's Hawaiian Volcano Observatory.
Hawaii County police said there were no reports of damage.
Penalties for DUI toughened
Highly intoxicated motorists caught driving drunk over the Fourth of July holiday will face tougher penalties because of a new law that went into effect July 1.
The legal limit for blood alcohol content is 0.08 percent, but Act 198 imposes a harsher sentence for those found guilty of driving with a blood alcohol concentration of 0.15 percent or higher.
If convicted, they could have their driver's license suspended for six months to a year with no conditional permit. The driver's vehicle registration will also be revoked for six months to a year.
The violator must also attend a substance abuse rehabilitation program for a minimum of 14 days and one or more of the following: 72 hours of community service; two to five days in jail; and a $150 to $1,000 fine or a $25 neurotrauma special fund surcharge.
The new penalties pertain to those with a clean driving record, with no prior alcohol or drug enforcement.
TO OUR READERS
There is only a morning edition of the Star-Bulletin today, which is being delivered to all home subscribers.
Cause of dolphin's death unclear
Marine biologists did not find an obvious cause of death for a spinner dolphin found stranded Saturday afternoon in the Punaluu area, just north of Kahana Bay.
The animal was spotted floating in shallow water, said Kristi West, Hawaii Pacific University assistant professor of biology.
West responded to the stranding under an agreement between HPU and the National Marine Fisheries Service, National Oceanic and Atmospheric Administration.
She said the dolphin hadn't been dead long when she saw it with a group of HPU marine science students and a veterinarian. It was a male about 6 feet long, she said, speculating that it wasn't quite full grown.
She conducted a necropsy at a University of Hawaii facility with UH associate animal scientist James Carpenter.
She said she didn't see any obvious cause of the animal's death but took samples from all major organs and sent them to two veterinary pathologists on the mainland.
"We don't have lots of reports of spinner dolphins" in waters in that area, West said. "But I wouldn't call it unusual, either."
'Ualaka'a Park to close at 4 p.m.
'Ualaka'a State Park, on Round Top Drive, will close early today, at 4 p.m., to reduce chances of fire from illegal fireworks, the state Department of Land and Natural Resources announced yesterday.
"Use of fireworks in state parks and forest reserves is illegal," said Interim DLNR Director Allan Smith. "As we celebrate our national freedom, let us also be good citizens who respect our land and waters."
The park will reopen its normal hours of 7 a.m. to 7 p.m. tomorrow.
Flavors takes in $750,000
More than 45,000 people attended Flavors of Honolulu last weekend and spent more than $750,000 to sample dishes from 24 Oahu restaurants.
Abilities Unlimited yesterday reported the gross receipts from the three-day event on the grounds of Honolulu Hale. The event was produced by the city and Hawaii Medical Management Alliance Association to benefit the nonprofit Abilities Unlimited, which helps disabled and recovering people with employment and community services.
The annual food festival was presented by Easter Seals as Taste of Honolulu for 15 years. The agency ended its production last year in favor of other fundraising initiatives.
Easter Seals reported last year that it netted $280,000 after expenses from Taste of Honolulu.
This year's chairwoman, Karen Mukai, said more than 1,200 people worked as volunteers at the event, which also featured rides and activities for children, a crafts fair and farmers' market.
Melissa Lam of Kailua was the winner of a trip for two to New Zealand in a drawing from ballots cast by attendees voting for most flavorful foods in several categories.
| | |
| --- | --- |
| | Police, Fire, Courts |
---
BREAKING ITEMS
Cabbie charged with attempted murder
A Honolulu taxi driver was charged with attempted second-degree murder yesterday after allegedly running over his customer after an argument over a tip.
Guillermo Fernandez, 51, was charged in connection with the case. Last Friday, Ryan Foth called a taxi from TheCab to be picked up at the Ilikai Hotel, according to court documents. Foth was dropped off at CompUSA on Ala Moana Boulevard at about 8:30 a.m.
Foth told police he gave $10 for the $7 fare, and was given $1 in change. Foth said he told Fernandez that he wasn't giving a tip.
Foth said the driver ignored him and an argument ensued. Foth told police he walked toward Personal Touch Computers on Keawe Street when he was struck by the cab from behind and fell onto the hood, according to the indictment.
Fernandez then struck a parked car, before allegedly striking Foth with his cab a second time, causing Foth to land on the windshield. Foth was struck a third time before witnesses pulled him to safety and Fernandez fled, according to the court documents.
Fernandez later told police, "I left my car at home," and "He hit me first." Foth suffered abrasions to both arms and a contusion to his spine, documents state.
An official from TheCab company said last week that the driver is not an employee, but rather works for a contractor that TheCab used. TheCab stopped using the contractor after the incident, the official said.
2 men accused of attempted murder
Two men were arrested as suspects in the stabbing of a man found in the bushes in Waialua, police said today.
The men, ages 48 and 45, were arrested yesterday on suspicion of second-degree attempted murder after homicide detectives received a tip.
Last week, a 32-year-old woman was arrested in connection with the crime, but she was questioned and released, police said.
The victim, 34, was found on June 22 in bushes on Cane Haul Road. He was hospitalized in critical condition, but has since been upgraded.
NEIGHBOR ISLANDS
Man dies after diving off cliff
A 56-year-old Big Island man died Monday at the Queen's Medical Center after nearly drowning in a diving accident Sunday in Kealakekua on the Big Island.
The Medical Examiner's Office identified the man as Gary P. Pooler from Kealakekua.
The cause of death was asphyxia due to near-drowning because of head injuries he suffered in a diving accident, the Medical Examiner's Office said.
Pooler dove off a 25-foot cliff into the ocean at Hokulia Beach on Sunday, police said.
CENTRAL OAHU
Arrest follows machete threat
Police arrested a 57-year-old man for allegedly threatening a 23-year-old woman with a machete Monday night in Waialua.
Police said the man and woman were involved in an argument when the man allegedly threatened the woman about 9:50 p.m. Monday.
Police were called and the man was arrested on suspicion of first-degree terroristic threatening.
HONOLULU
Woman gives up over forgery rap
A 23-year-old woman was arrested after allegedly forging a check through her employer.
On May 22, the suspect entered a Kalihi bank to cash a business check for $4,850. Police said the bank teller contacted the company and completed the transaction.
The business later informed the bank that the check was a forgery. The woman turned herself into police yesterday and she was arrested on suspicion of second-degree forgery and theft.