---
FAST FACTS HAWAII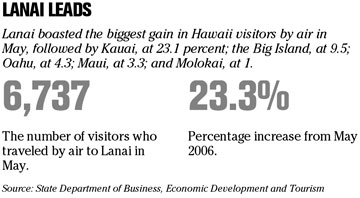 ---
Hawaiian tops service stats
Hawaiian Airlines
is back in first as the nation's top on-time carrier after giving up that distinction last month to rival
Aloha Airlines
.
In finishing first in May for the 40th time in the last 43 months, Hawaiian's flights finished within 15 minutes of their scheduled arrival time 92.8 percent of the time, according to the U.S. Department of Transportation. Aloha was second with 88.4 percent of its flights on time.
Hawaiian also took top honors for baggage handling and fewest canceled flights. Hawaiian ranked third for fewest complaints at 0.34 percent.
Aloha ranked fourth for baggage handling, second for fewest complaints and 17th for fewest cancellations. Aloha, which had ranked third the previous month in canceled flights, saw that number increase in May after an aircraft was delayed coming out of major maintenance.
[ HAWAII INC. ]
NEW HIRES / PROMOTIONS
» Castle Resorts & Hotels has announced the following new hires and promotions:
Alan Mattson
has been promoted to chief operating officer and president. He will oversee all operations for the Hawaii, Micronesia and New Zealand divisions.
William Koo
has been hired as chief marketing strategist. He will be responsible for strategic planning and sales; marketing; and reservations, including revenue development, channel distribution and interactive marketing initiatives.
Donna Wheeler
has been hired as senior director of marketing. She will be responsible for brand marketing strategies including advertising, promotions, events, and direct and interactive marketing.
Lori Dydasco
has been promoted to senior director of retail sales. She will oversee the retail sales team in Hawaii and Micronesia.
Racquel Hidaro
has been hired as retail sales manager. She will be responsible for the kamaaina, military and government markets.
Michael Orozco
has been hired as interactive marketing manager. He will be responsible for leveraging online marketing channels and enhancing the company's brand position.
» Meridias Capital of Hawaii has announced the following new hires: Oliver Oliquiano has been named Hawaii regional business development manager. He will oversee sales teams on Oahu, Maui and the Big Island. He has more than 15 years of experience in the mortgage banking industry. Ty Tynan has been named branch manager of the company's Kapolei office. He will oversee new hire training, coaching, escalations and business development. He has more than 15 years of sales and management experience in both the financial services and communications technology industries.
» Longs Drug Stores Corp. has named Rock Tang as regional director of real estate for Hawaii. He will be responsible for all real estate transactions, market analysis and planning, site selection, purchase and lease negotiations for all Longs Drug Stores in Hawaii.
» NovaSol has been promoted Dr. Rick Holasek to president from vice president and director. He replaces David M. Van Buren, who stepped down as chairman of the board and chief executive officer, and will continue as a Washington-based consultant. Holasek is a co-founder of the high technology company and is also an executive director and co-chairman of the Hawaii Science and Technology Council.
» Sheraton Kauai Resort has hired Tiffany Gilhuly as senior sales manager. She will be responsible for domestic and international wholesale and travel agent sales, as well as soliciting new and existing group business accounts to reach revenue goals. She previously served as complex sales manager for the W New Orleans and the W French Quarter.
» The Honolulu Club has named Beth Aylward as general manager. She will oversee all departments of the athletic club. She previously served as general manager of Northern California's properties and has 10 years management experience in the fitness industry.
» Rider Levett Bucknall has announced the following new hires: Victoria Nakamura has been named senior project manager for the firm's Big Island office. She has 20 years experience in the construction industry with expertise in program, project and facilities management; architecture and design. John Jackson has been hired as project manager. He has five years of experience in construction and project management. Beverly Taise has been hired as project administrator for the firm's Big Island office. She brings 20 years of administrative experience.
---
KKR files for initial public offering
NEW YORK » Private equity firm
KKR & Co. LLP
yesterday filed with the Securities and Exchange Commission to raise as much as $1.25 billion in an initial public offering, following in the footsteps of rival
Blackstone Group LP
.
The leveraged buyout powerhouse that's best known for its $25.1 billion purchase of RJR Nabisco, hopes to trade on the New York Stock Exchange under the ticker symbol "KKR." The firm, launched by Henry Kravis and George Roberts in 1976, said it expects to use the offering's proceeds to grow its business.
KKR has been one of the most prolific private-equity firms, scoring the two biggest deals in U.S. history with proposed buyouts of TXU Corp. and First Data Corp.
The IPO will come amid fresh pressure on private-equity firms, especially after the 4.1 percent drop in rival Blackstone Group's shares since its $4.75 billion offering June 21.
China's Chery to make cars for U.S.
BEIJING »
Chrysler Group
signed a deal today with China's biggest automaker,
Chery Automobile Co.
, to manufacture small cars to export to the United States and other markets.
The deal marks the first attempt by a major U.S. automaker to use China as a manufacturing base to serve world markets.
The companies expect to export their first vehicle within a year to Latin American or Eastern Europe, and models should reach the United States and Western Europe with 2 1/2 years, said Tom LaSorda, Chrysler's chairman.
Chrysler will begin sales of Chery's A1 hatchback under the Dodge brand in the first quarter of next year, Chery President Yin Tongyao told reporters. The 1.3-liter A1 costs as little as 53,800 yuan ($7,100) in China.
---
Airbus streamlining urged: President Nicolas Sarkozy of France is pushing hard for a deal this month to streamline the "two-headed" management structure of EADS, parent company of Airbus, people with knowledge of the discussions said yesterday. However, sharp differences remain over who should hold the top leadership posts, these people said.
Debt picture mixed: Late payments on home equity loans climbed to a 1 1/2-year high in the opening quarter of this year, while delinquencies on credit card bills fell, painting a mixed picture of how people are managing their debt, an American Bankers Association survey said yesterday.
---
BUSINESS PULSE