---
FAST FACTS HAWAII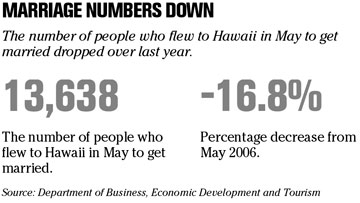 ---
Bankruptcy filings climb
Statewide bankruptcies jumped 53 percent during the first half of 2007 from the year-earlier period, when filings were slow in the aftermath of a newly enacted federal law that made it more difficult and costly to seek financial protection.
There were 684 filings in the first six months of this year, up from 447 during the first half of 2006, according to U.S. Bankruptcy Court for the District of Hawaii. In the first half of 2005, 1,746 people in Hawaii sought bankruptcy protection. The stricter bankruptcy law took effect in October 2005.
Chapter 7 filings, which involve liquidation, increased 46.9 percent to 561 during the first six months of this year from 382 a year earlier. Chapter 13 filings, which allow individuals to set up payment plans over three to five years, nearly doubled to 113 from 58. Chapter 11 filings, used for reorganizations, rose to nine from six.
Spa operator adds Kakaako site
The owner and operator of
Heaven on Earth Salon & Day Spa
is expanding to Kakaako this week.
Heaven on Earth Spa Club and Café, Honolulu entrepreneur and businesswoman Loa Nakai's largest location, will open Thursday inside Koolani, one of Kakaako's new luxury residential high-rises.
"Heaven on Earth will continue providing all the services we've grown into over the past 10 years, but now in the facility I've always dreamed of," said Nakai. The company also operates spas on Alakea Street and at the Hale Koa Hotel.
The 20,000-square-foot luxury facility in Kakaako will include lounge areas and private men's and women's hot tubs, sauna and steam rooms. A private suite is also available to accommodate groups of up to four. A Lifestyle Café inside the spa will include healthy menu options.
Astronomy center gets green rating
The
Durrant Group
has won Leadership in Energy and Environmental Design (LEED) certification for the Imiloa Astronomy Center in Hilo.
The certification is a performance-oriented rating system for sustainable projects administered by the U.S. Green Building Council.
Durrant Media Five designed the planetarium and museum with three conical forms that represent an abstraction of the island's major mountain peaks. The shapes are clad in titanium, which contributes to its LEED certification.
Durrant also earned LEED points for the design of high-efficiency mechanical and electrical systems, for site selection, and for the use of recycled materials.
---
BRIEFCASE
New boss at Blockbuster:
Movie-rental chain Blockbuster Inc. names former 7-Eleven Inc. CEO James W. Keyes its new chief executive, effective immediately.
Big deal in Britain: A British real-estate group agrees to buy the 42-story tower that houses Citigroup Inc.'s London headquarters for about $2 billion from Royal Bank of Scotland Group PLC.
Virgin Media offer: Virgin Media Inc. confirms it has received a takeover offer. The disclosure came after news reports said private equity firm Carlyle Group offered $11.1 billion for the cable TV and mobile phone operator.
---
BUSINESS PULSE