| | |
| --- | --- |
| | Newswatch |
---
LAW DROPS GAS PRICE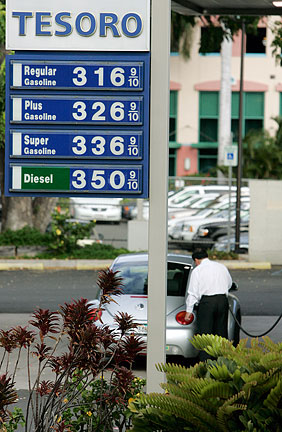 Federal grant boosts vet training
A Honolulu firm that provides job training and placement for homeless veterans was awarded a $278,000 grant by the U.S. Department of Labor Employment and Training Service.
The competitive grant award to Network Enterprises Inc. was announced by U.S. Rep. Neil Abercrombie. It will fund comprehensive case management services to help homeless veterans deal with obstacles to steady employment such as physical and mental health problems, substance abuse problems and criminal records, according to a news release.
Company President Roland Talbot said it has provided individualized help to veterans for seven years.
There are an estimated 1,200 to 1,500 homeless veterans on Oahu, according to the announcement.
Pharmacy school can enroll class
HILO » The new College of Pharmacy at the University of Hawaii at Hilo has received preliminary accreditation, allowing the school to enroll its first class of 90 students in August, the school announced.
The four-year, graduate level program leading to a Doctor of Pharmacy degree was approved by university regents in 2004.
John M. Pezzuto, formerly at Purdue University in Indiana, was named dean of the Hilo school last year.
The latest step in the creation of the school is granting of "precandidate status" for accreditation by the national Accreditation Council for Pharmacy Education, a necessary step for admitting students, the school said.
The school will move to "candidate status" next year when it will have enough of a track record for an accreditation team to evaluate, Pezzuto said. Full accreditation will come only when the first class graduates in 2011, he said.
When regents considered the college in 2004, they were told that Hilo was picked as the location because that was the choice of the Hawaii Pharmacists Association. Rural areas in Hawaii have the greatest need for pharmacists.
The entering class will consist of 45 students from Hawaii and 45 from out of state. The college is in the final stage of selecting from current applicants.
Students will spend their first two years in Hilo, then their final two years in clinical work around the state.
Hawaii needs about 45 new pharmacists per year, regents were told in 2004. A graduate can expect to earn about $85,000 per year.
Isle trio will head to Cambodia
Three Hawaii students will travel to Cambodia for four weeks this month to create video documentaries as part of an East-West Center program.
Honolulu students Hannah Ross and Davin Aoyagi, both from Mid-Pacific Institute, and Hilo student Maria Walczuk from Connections Public Charter School are three of 21 students who will spend five days in Honolulu and three weeks in Cambodia as part of the program.
Under the program, which began yesterday, the students will examine the role of journalism in covering an event with international importance by focusing on the Khmer Rouge Tribunal. They will create minidocumentaries during about the tribunal process and the dynamics of Cambodian society.
The students will also visit the capital, Phnom Penh, and travel into the countryside to live with a local family for one week.
| | |
| --- | --- |
| | Police, Fire, Courts |
---
NEIGHBOR ISLANDS
State crews douse remnants of blaze
State Division of Forestry and Wildlife personnel continued putting out hot spots yesterday after a Kauai brush fire burned about 225 acres on Saturday.
The fire broke out at about 4:30 p.m. in Wailua and burned mostly land belonging to the Department of Hawaiian Home Lands across from Aloha Beach Resort, a county news release said.
No structures or lives were threatened.
Wildlife employees and public works employees returned to the scene of the fire at about 6:30 a.m. yesterday. A bulldozer cut along the edge of the fire lines, and chain-saw operators cut down smoldering trees.
Two helicopters assisted with water drops on hot spots.
The cause of the fire has not been determined.
HONOLULU
Charges filed after assault on 3 people
Authorities charged a 37-year-old man yesterday who allegedly threatened and assaulted three people early Friday morning when he arrived at his Aiea home.
David M. Rabe is charged with attempted second-degree murder, first-degree terroristic threatening, second-degree assault and second-, third- and fourth-degree criminal property damage.
Rabe allegedly came home and assaulted a man, 50, with a knife. He also allegedly assaulted a 16-year-old girl with a piece of glass and threatened to kill a 60-year-old man with a knife and damaged his car.
Bail was set at $75,000.
Rider's shades fail to scare off arrest
A patrol officer stopped a 40-year-old motorcyclist wearing sunglasses in the dark yesterday and discovered the motorcycle was stolen.
The officer stopped the motorcyclist at 12:08 a.m. in the Punchbowl area. Police arrested the man on suspicion of unauthorized control of a propelled vehicle.
Man allegedly tries to meet kid for sex
Authorities charged a 46-year-old Kapolei man yesterday with first-degree electronic enticement of a child.
Police arrested Earnest L. Roberts at 11:12 a.m. Saturday after he showed up at a meeting place allegedly to have sex with whom he thought was an underage girl he met on the Internet.
His bail was set at $50,000.
WAIKIKI
Lifeguards pull 7 from large waves
Lifeguards made seven rescues yesterday, all in Waikiki, during a high surf advisory for south shores.
Lifeguards also made 15 assists and 464 preventative actions on the island, said Bryan Cheplic, spokesman for the city's Emergency Services Department.