---
FAST FACTS HAWAII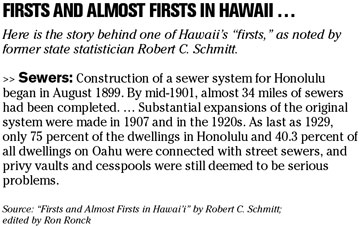 ---
MySpace hits 17 million IM users
MySpace.com
, the social-networking Web site owned by
News Corp.
, attracted more than 17 million instant messaging service users worldwide in the year it has offered the function.
The service, called MySpaceIM, lets users send text messages, music and pictures to each other, MySpace said late last month. The company said the number of users more than doubled in the past six months.
MySpace, bought by Rupert Murdoch's News Corp. for $580 million in 2005, is adding features in hopes of drawing more users who will linger longer on the site so it can increase advertising sales. The function, which is still being tested, competes with AOL's AIM, the most-used instant messaging service in the U.S., and Yahoo! Inc.'s Messenger.
The instant messaging service offered by AOL, the online unit of Time Warner Inc., had 39.3 million U.S. users in May, according to research company ComScore Inc. Yahoo's Messenger had 29.1 million users and Microsoft Corp.'s Windows Live Messenger had 20.9 million. MySpace didn't say how many U.S. users its messaging service has.
Tax deadbeats risk cybershame
California is relying on the threat of public humiliation to help collect millions of dollars of overdue state income taxes.
The California Franchise Tax Board plans to send letters next month to about 250 of the state's biggest income-tax deadbeats, mainly individuals. The message: The agency will publish your name and how much you owe on its Web site unless you pay, arrange payment, are in bankruptcy, or have filed a formal protest.
Officials in the growing number of states that have launched similar campaigns say the technique works, because many tax dodgers will gladly pay in order to keep their family, friends, neighbors and co-workers from discovering they're delinquents.
"When we studied other states' programs, we discovered it's the notice indicating your name could appear on the Web that brings in the lion's share of cash," says John Barrett, a California Franchise Tax Board spokesman.
He says officials expect to recover about $30 million over the next year alone.
You can go home to old job again
People increasingly are returning to previous jobs after raising small children or pursuing other opportunities. But can you leave the same company twice and still get your old job back?
By following a few tips, workers can return to a position for a second time around.
» First, help to make your successor's transition as seamless as possible, and don't leave your desk or office in a mess, said Vicki Rossetti, vice president of talent management for Chubb Group of Insurance Cos.
"Leave the organization and your particular business unit in a good place," she said.
» Maintain your relationships. Keep in touch with old colleagues and friends, even if you plan only a short absence. Check in with previous clients who can serve as references.
» Keep a list of your accomplishments handy to remind your managers of what you have to offer. Remember there's no guarantee that you'll get your old job back.
"We would expect that employees would still go through the interview process," Rossetti said.
Boomerang employees do have an extra edge, though, because they already know the culture and value of the company, she said. Plus, the company wants to make good on its investment in training you.
'Napoleon Dynamite' wins poll
While most celebrities get paid per movie deal, a few starlets have at least played the part of an minimum-wage stiff on the silver screen.
A few roles rise to the top, working-class characters we related to and commiserated with.
Jon Heder as "Napoleon Dynamite" takes the cake for portraying the most memorable hourly job on film for his toil as a chicken farmhand, according to a new poll.
Heder's character -- who suffered through lunches of hard-boiled eggs and raw-egg-yolk shakes -- won 33 percent of the votes in the nonscientific survey by SnagAJob.com, an hourly employment job site.
Coming in second was Jennifer Aniston as a waitress in the cult comedy "Office Space," followed by dog-walker Jennifer Lopez in "Monster-in-Law."
Nearly 3,000 votes were cast in the poll on the SnagAJob Web site.
---
BUSINESS PULSE