'Shipwrecked' concerts bring party to the high seas
SATURDAY BRINGS a new summer party to the high seas, thanks to
JK Entertainment
. "Shipwrecked" is a summer concert series that will feature some of the biggest names in island music, capped off by an Aug. 25 appearance by New Zealand's
Katchafire
. This week's inaugural voyage aboard the Alii Kai Catamaran will feature the sounds of
Koa'uka
, followed by
Natural Vibrations
next Saturday and
Kawao
on July 14;
Ooklah the Moc
will be the first featured band in August following a two-week hiatus.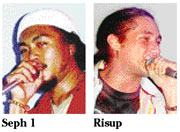 Preboarding starts at 9 p.m. Saturday at Aloha Tower's Pier 5, with the Alii Kai departing at 10 p.m. and returning around midnight. Presale tickets, available at Town and Country Surf and by phone at 395-8996, are $25. Expect to pay $35 at the door ...
I KNOW theme parties are the current rage in Clubland, but have you noticed an unusual number of pink-themed events lately?
Last month it was the "Pink Party Pub Crawl" in Chinatown with G-Spot. A few weeks ago, the Vertical Junkies and Architechs Hawaii picked a pink theme for their "Monkey Bar" weekly at the Hyatt Regency Waikiki. On Friday, Rick Rock hosts his own pink party during "Foreplay Fridaze" at Pipeline Cafe.
What gives? It's all a promotional push by Alize Rose, a new liqueur that blends passion fruit juice, lychee, strawberry and roses with premium French vodka ...
BIG UP to the crew from SiQ Records, a new Hawaii-based record label that is doing its part to elevate local hip-hop here in the islands.
Hunger Pains, comprised of producer Big Steve and rappers Seph 1 and Risup, is the first group from the camp to get some shine. Their debut album, "Dirty Aloha," dropped earlier this month and will serve as the foundation for an upcoming three-island "SiQ Summer Tour" that starts July 5 at the Hawaiian Hut.
On Friday, Hunger Pains headlines "Hip-Hop at the Trops," an 18-and-over party at Tropics Cafe (across the street from Ward Warehouse). They'll be joined by Creed Chameleon and Angle, with DJs Careless1 and Revise on the decks until 2 a.m. ...
SATURDAY'S PICKS: Ini Kamoze and Collie Buddz headline the "Summer Series Concert Tour" at Pipeline Cafe; reggae band Tribal Seeds also will perform. Doors open at 8 p.m. for the 18-and-over crowd; tickets are $35 ... The night after launching a new weekly on Kauai, promoters Flash Hansen and Matty Hazelgrove head to Bar 35 for the latest installment of "Honolulu." DJs KSM, Eskae and Epic One will be on the decks at this one ... "Pimpbot's Summer Shakedown" at Don Ho's Island Grill should be fun, with live performances by Max Murdoch and the Northern Soul Project, Linus, 82Fifty, YSAS and Pimpbot ...
THE FOURTH of July holiday falls on a Wednesday this year, which means there are a number of solid events worth checking out early in the week.
James Coles returns to Lily Koi Restaurant and Lounge on Tuesday for "Sugar Hill," an old-school dance party for the 21-and-over crows with DJs Lisa D, Big John, Montez Brown, Jimmy Taco and Wu-Chang joining Coles on the decks to spin a mix of the '80s and '90s. Back in town, Livewire presents "Zero Gravity" at Xyloh for electronic music fans.
On Wednesday, NextDoor presents "Camera Obscura" with DJs Nocturna, Modboy and Du Nord, with a special gothic belly dance performance that you don't want to miss. Lotus Soundbar and Mix Sounds Entertainment will host "The Freedom Party" for the 21-and-over crowd, with DJs Technique and D-Box handling mixing duties and a fashion show featuring items from Sensually Yours ...