---
FAST FACTS HAWAII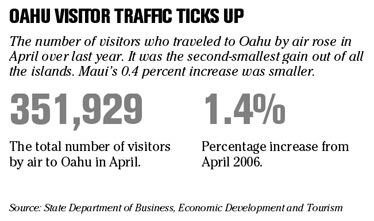 ---
HAWAII
Cowabunga! drops dial-up access
Honolulu-based
Cowabunga! Computers
has sold its domain, www.iav.com, in a private transaction and will cease providing dial-up Internet service.
No purchase price was disclosed and the buyer was not identified.
The 750 dial-up users of the service have been offered the same prices and services at local provider Lava.net, Cowabunga President Yasuo Ogawa said.
"It is our intention to focus on the network integration and computer repair service," Ogawa said. "We remain in close relationship with Oceanic Time Warner Cable's Road Runner service as a Road Runner-approved repair facility."
NATION
Capital One to cut 2,000 jobs
CHARLOTTE, N.C. »
Capital One Corp.
said yesterday it expects to eliminate about 2,000 jobs, or almost 7 percent of employees, throughout the company as part of a cost-cutting program designed to save $700 million by 2009.
The McLean, Va.-based credit card and banking company expects to incur $300 million of pre-tax charges for the restructuring, including $90 million this quarter and $200 million in 2007.
These charges are expected to reduce after-tax profit by 15 cents per share this quarter, and 33 cents per share in 2007.
ConAgra profit more than triples
OMAHA, Neb. »
ConAgra Foods Inc.
's fourth-quarter profit soared on strong results from its commodities trading division and a comparison with results a year ago that were depressed by restructuring charges.
The costs of recalling its Peter Pan peanut butter hurt ConAgra's latest results, but its shares rose 4 percent in afternoon trading yesterday.
The food company said yesterday it earned $192 million, or 39 cents per share, for the quarter ended May 27 versus a profit of $59.2 million, or 11 cents per share, a year ago.
Best Buy to boost stores by 400
MINNEAPOLIS » Electronics retailer
Best Buy Co.
moved aggressively yesterday to support its stock, saying it would immediately start a $5.5 billion buyback program and raise its quarterly dividend by nearly a third.
It also said it was increasing its North American growth plans by 400 stores, bringing its target to 1,800. The company would provide no details on when it expected to hit those targets nor where the stores would be.
Wall Street applauded the news, with analysts saying it showed the company had confidence in its future.
The announcement was made before the company's annual meeting just outside Minneapolis
WORLD
EU blocks Ryanair's hostile bid
BRUSSELS, Belgium » EU regulators blocked a hostile takeover bid by low-fare carrier
Ryanair
for Ireland's
Aer Lingus
yesterday, saying it would limit consumer choice and likely boost ticket prices.
Together, the two Irish airlines would control more than 80 percent of all European flights to and from Dublin airport, the European Commission said.
It is only the second time the EU has blocked a takeover bid since 2001.
---
BUSINESS PULSE