Isle growers fear change will hurt them
STORY SUMMARY »
A rule change approved by the U.S. Department of Agriculture last week will allow irradiated pineapples and other tropical fruits from Thailand to compete directly with Hawaii products.
In 2005, Hawaii's pineapple crop brought in $79.3 million. Sales of local tropical fruit like mango, lychee, longan and rambutan increased 40 percent to $2.7 million, a new record, said the state Department of Agriculture.
"I am shocked," said Bob Hamilton*, president of Hula Brothers, a Big Island fruit grower. "We are a very large industry here and it could affect us."
---
FULL STORY »
With growers in Thailand receiving an average of 9 cents a pound for rambutan, compared with $2.51 a pound in Hawaii, local growers say a rule change finalized last week that allows irradiated tropical fruits from Thailand to be sold in the United States threatens their livelihood.
The new rule means pineapple, rambutan, mango, lychee, longan and mangosteen treated with irradiation to kill fruit flies and other pests can be shipped from Thailand and sold in the United States starting July 23.
But it will take a little longer to approve the irradiation and packing facilities and procedures. The first fruit from Thailand should arrive in the United States this fall, Rapibhat Chandarasrivongs, the agricultural minister-counselor at the Thai Embassy in Washington, D.C., told the New York Times.
Green mangoes, to be eaten like green papayas as a vegetable, and pineapples will likely be the first fruits shipped, Thai agriculture officials said.
Hawaii growers objected to the rule change when it was first announced last year, asking the U.S. Department of Agriculture to, at the very least, ban the fruits from coming to Hawaii to protect local crops from possible diseases that are not established in Hawaii.
"The industry made its case loud and clear, but apparently the USDA disagrees and this will leave the local industry at a competitive disadvantage and could very well hurt a growing industry," said Randy Obata, a spokesman for U.S. Rep. Neil Abercrombie.
Hawaii Sens. Daniel Akaka and Daniel Inouye also voiced their opposition to the change.
"It's a fairness issue for Hawaii," said Lyle Wong, administrator of the Plant Industry Division of the state Department of Agriculture. "I think what's irritating about the rule change is that we have had requests for (some of the) same fruit to be sent to the continental U.S. that the USDA has yet to approve."
Wong pointed out that Thai mangosteen will be allowed to be shipped and sold on the mainland while mangosteen from Hawaii is still banned.
Hawaii growers have been petitioning the USDA for six years to allow irradiated mangosteen from Hawaii to the mainland. Hawaii is also still waiting for the USDA to approve requests to allow breadfruit, jackfruit and citrus to be shipped and sold on the mainland.
In making the rule change, the USDA acknowledged the Hawaii complaints and said it was working on streamlining procedures.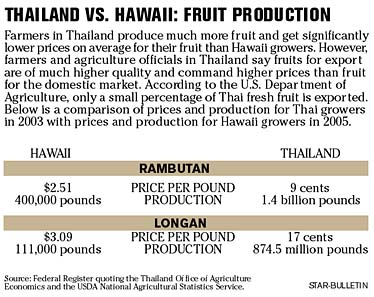 ---
The agency also said that treaties with other countries prohibit the U.S. government from using plant importation rules to protect domestic farmers.
Local growers say they think they can compete with Thailand on quality and freshness, but it is difficult to say yet what the impact of cheaper Thai fruits will be on prices.
Richard Johnson, president of Hawaii Tropical Fruit Growers, an association of growers, said Hawaii farmers think the Thai fruit will cut into sales to Asian food markets on the mainland. Local growers are hoping to move into other more mainstream markets where they can command higher prices for better quality and freshness.
Eric Weinert, vice president and general manager of Hawaii Pride, an irradiation facility on the Big Island, said that while Thai fruit can be produced at a lesser cost than Hawaii, air shipments from Thailand cost $1.80 a pound versus 45 cents a pound for shipments from Hawaii.
Ultimately the consumer will decide, said Gerry Watts, general manager of Maui Pineapple Co. "Maui Pineapple Co. is ready to ship quality fresh fruit within 12 hours of harvest. I don't think anyone in Southeast Asia is doing that," Watts said.
---
CORRECTION
Thursday, June 28, 2007
» Bob Hamilton is the president of Hula Brothers, a tropical fruit farm on the Big Island. A Page A1 summary in yesterday's morning edition misidentified him as Richard Johnson.
Please see the applicable
Corrections
page for more information.