| | |
| --- | --- |
| | Newswatch |
---
Gas-tax cut primed to pump
Gas prices are expected to decline by at least a dime come Sunday, after Gov. Linda Lingle signed into law a bill restoring a general excise tax exemption on ethanol-blended gasoline.
The bill was among three tax cuts signed by the governor yesterday.
In total, the measures are expected to cost the state about $90 million, well short of the $346 million in tax cuts proposed by Lingle.
"While the measures passed this year are a step in the right direction, they do not address the long-overdue need to change our basic tax structure to protect taxpayers from tax increases caused by inflation and to increase the standard deduction and widen tax brackets to allow residents to keep more of their take-home pay," Lingle said in a statement.
Democrats had said they were cautious in spending because of flat revenue projections, adding that they targeted tax cuts to those who need it the most.
Senate Bills 148 and 1882 give an estimated $49 million back to low- and middle-income taxpayers through tax refunds and food and excise tax credits for those who qualify. The tax breaks would have to be claimed by taxpayers on their returns filed next year.
Only the gasoline GET exemption, House Bill 1757, will be felt immediately. At current prices, the exemption is expected to save motorists between 12 and 14 cents a gallon, depending on the grade of gas.
However, the bill also includes a doubling of the 1-cent-per-gallon tax that refiners pay to the Department of Taxation for fuel manufactured and distributed in Hawaii. That tax typically is passed on to dealers and, in turn, consumers.
Former HMSA VP goes to Damien
A former executive vice president of the Hawaii Medical Service Association has been hired as interim president and chief executive officer of Damien Memorial School.
Bernard Ho will succeed Brother Greg O'Donnell when he takes over leadership at the private, Catholic school for boys next month, the school's board of directors said yesterday. He has agreed to serve for one year, according to a school spokesman.
Ho, 65, was executive vice president of HMSA, the state's largest health insurer, from 1994 to 2005. He also was president and chairman of the board of HMSA's wholly owned subsidiary, Integrated Services Inc., which provides medical services and health-risk assessment and education programs.
Ho, who spent 38 years with HMSA, was chairman of the Damien school board from 2002 to 2006.
O'Donnell, 68, took the head post at Damien in 2000 after serving as principal for three years. He announced his retirement last month, saying he wants to remain in Hawaii and use his background as an educator to help prisoners navigate the outside world once released.
O'Donnell has been credited for putting the school on solid financial ground, adding a middle school, revitalizing the band program and increasing the size of the campus by 10 percent. Enrollment this fall will be 600, up from 375 three years ago.
DLNR looks at ship ballast water
The state Department of Land and Natural Resources will hold a public hearing tomorrow on proposed regulations for ship ballast water.
The water in ships' holds may contain alien aquatic animals or plants that could threaten Hawaii's native species and the state is proposing ballast water management rules to protect local waters.
"Alien aquatic species pose one of the greatest threats to Hawaii's waters and coral reefs. They have the potential to harm our marine ecosystem, negatively impact Hawaii's economy and pose serious public health problems," said Allan Smith, interim DLNR director.
The hearing will begin at 10 a.m. at the Kalanimoku state office building, 1151 Punchbowl St., Room 132.
Public comment can be made at the hearing or by mail until July 13, to the Division of Aquatic Resources, 1151 Punchbowl Street, Room 330, Honolulu, HI 96813.
The proposed draft rules for Hawaii Administrative Rule Chapter 13-76 can be seen at www.hawaii.gov/dlnr/dar/notices.htm or requested by calling the division at 587-1000.
| | |
| --- | --- |
| | Police, Fire, Courts |
---
HONOLULU
Teen accuses man of sexual assault Authorities yesterday charged a 49-year-old Honolulu man who allegedly sexually assaulted a 15-year-old girl at her home.
Michael T. Sumida was charged with third-degree sexual assault. Bail was set at $40,000.
Police said the girl reported the man had touched her inappropriately in May.
WEST OAHU
Suspect arrested in double theft A 36-year-old man was arrested Monday after he allegedly stole an elderly woman's purse and car, according to police.
Police said the suspect stole a 73-year-old woman's bag from the beach in the Ewa Beach area; the bag held her car keys. The suspect than allegedly took the car.
Soon after the woman filed a stolen vehicle report, the suspect was pulled over nearby. After police informed the suspect of the arrest, he allegedly fled the vehicle but was caught soon after.
He was booked on suspicion of auto theft, third-degree theft, resisting arrest and driving without a license.
NEIGHBOR ISLANDS
Search on for DUI, homicide suspect Big Island police are searching for a 26-year-old man wanted on a bench warrant.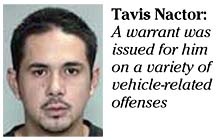 Tavis Nactor, whose last known address was in Pepeekeo, is wanted for alleged first-degree negligent homicide, driving under the influence of an intoxicant and driving without a license.
Anyone with information on his whereabouts is asked to call the police nonemergency number at 935-3311.
Anonymous calls may be made to Crime Stoppers at 961-8300 in Hilo or 329-8181 in Kona.
Suspicious fires prompt warning
Big Island police are looking for suspected arsonists in the South Kohala district.
Police are investigating the possible intentional causes of several brush fires in the district, especially in the Waikoloa, Puako and Saddle Road areas. The fires were started next to major thoroughfares such as Mamalahoa Highway, Waikoloa Road and Saddle Road.
Anyone who sees suspicious activity, or people along the highways with stopped vehicles with no apparent car trouble, should call police at 935-3311.
Domestic spat leads to gunfire
Big Island police arrested a 34-year-old Kalaoa woman Monday on suspicion of reckless endangering for allegedly shooting at her estranged 39-year-old husband.
Police said the Kona man was not struck during the shooting at the woman's home.
Officers responded to a 5:30 p.m. call and received information the woman had fired at least one shot during an argument with her husband at her home on Mamalahoa Highway.
The woman was being held at the Kona police cellblock.
WAIKIKI
Teen arrested after driving in bus lane A 16-year-old girl was arrested for suspicion of auto theft after she was stopped for driving in the bus lane, police said.
About 10:45 Monday night, police saw a vehicle traveling in the bus transit lane in Waikiki.
When making the stop, police discovered the vehicle was stolen and arrested the girl for alleged auto theft and driving without a license.
---
THE COURTS
Murder charge filed in stabbing
An Oahu grand jury has indicted a Kalihi man, charging him with second-degree murder in the stabbing death of his wife.
Victorio Barayuga, 62, suffered apparent self-inflicted stab wounds to his upper body and slashed wrists in the June 13 attack on Liwliwa Barayuga at their Akina Street home.
According to police, Barayuga told his wife that he had a "nervous sickness," but that she didn't believe him and told him to kill himself. He also begged her to take him back to the Philippines because "he was going crazy and he couldn't take it anymore," police said.
Second-degree murder is punishable by a life term in prison with the possibility of parole.
City prosecutors have filed a motion to commit Barayuga without bail. A hearing on the motion is set for July 9.
Prosecutors allege that Barayuga is a danger to himself and that he is eligible for enhanced sentencing of life without parole for causing the death of someone older than 60. His wife was 63.
Guard admits hitting inmate
A former Pago Pago, American Samoa, corrections officer has admitted to abusing his authority by repeatedly striking an inmate in the head in January 2003.
Siaumau Mapu, who worked at the Tafuna Correctional Facility, pleaded guilty yesterday in U.S. District Court to a felony civil rights charge and to making false statements. He admitted to lying to FBI special agents in August 2003 about another assault at the prison.
He faces a maximum of 15 years in prison and a maximum fine of $500,000.
Mapu was indicted in March along with the former warden of the Tafuna Correctional Facility, Mika Kelemete.
Mapu was accused of assaulting Sopa Siagigi in the head, causing permanent ear damage. Mapu was also accused of lying to FBI agents by telling them he didn't see Kelemete beat Siagigi with a board and had left the area after handcuffing the inmate to a pole. In fact, Mapu was present during the beating and had not left for a different section as he claimed, the indictment said.
"The overwhelming majority of correctional officers dispatch their difficult duties with honor and professionalism," said Wan J. Kim, assistant attorney general for the Civil Rights Division, in a written statement. "The Justice Department will aggressively prosecute those who cross the line to engage in acts of criminal misconduct."
Mapu will be sentenced Nov. 19. Kelemete is awaiting trial the week of July 24.
Drug convict gets 8-year sentence
A Maui man convicted in a drug case was sentenced Monday to eight years and one month in prison by U.S. District Judge Susan Oki Mollway.
Basho Elliot, 44, of Lahaina was convicted in February on two counts of conspiracy to distribute and attempting to possess with intent to distribute more than a pound of cocaine.
Elliot arranged to have a FedEx parcel containing more than 4 pounds of cocaine sent to co-conspirator John Meston in 2003, prosecutors said.
Elliot and Meston were arrested after Meston delivered the parcel to Elliot's home, they said.
Mollway found Elliot engaged in obstruction of justice by suborning the testimony of two witnesses.
Officer sentenced for beating uncle
TORRANCE, Calif. » A Coast Guard petty officer from Hawaii was sentenced Monday to eight years in prison for the brutal beating of his 74-year-old uncle with a whiskey bottle.
Claude Kaukini Kaaiakamanu, 30, of Pearl City was convicted in April of elder abuse and assault with a deadly weapon for attacking Alberto Estiamba, whose face was so badly beaten he was unrecognizable.
The petty officer second class, his wife, young twins and grandmother were on vacation and visiting Estiamba on March 15, 2006, when the beating occurred. Both men admitted drinking heavily but said they didn't remember what happened.
Kaaiakamanu said he'd had six beers and four shots of whiskey. Estiamba, a cancer patient, had a blood-alcohol level three times the legal limit to drive in California.
---
Star-Bulletin staff and wire reports