Flavors has big pots to fill
The charitable event has been taken over by the Abilities Unlimited charity
STORY SUMMARY »
Inheriting an established, large-scale, premier fundraiser is a nonprofit's dream -- and nightmare. Financial rewards abound, yet the crucial question is whether the organization can shoulder the weight of taking over such an event. Take the case of Abilities Unlimited, whose inaugural Flavors of Honolulu is the new incarnation of Easter Seals' 15-year-old Taste of Honolulu.
Flavors of Honolulu
A benefit for Abilities Unlimited:

» Place: Frank Fasi Civic Grounds (next to Honolulu Hale)

» Time: 5 to 10 p.m. Friday, noon to 10 p.m. Saturday, noon to 6 p.m. Sunday

» Admission: $6; children, seniors and military free. Purchase scrip to buy food.

» Call: For advance ticket sales, 532-2115; general information, 948-0088

» Online: www.abilitiesunlimited.org
Last year, some 40,000 food lovers attended Taste, and with an event of that scale, selecting the right organization to replace Easter Seals was crucial. The choice fell to Mayor Mufi Hannemann, who along with the City Council is the final authority on who gets to use Honolulu Hale grounds. Hannemann based his selection on two points, says John Henry Felix, chairman of Abilities Unlimited.
The organization needed the ability to administer, finance and muster volunteers for an event of this scale, a three-day affair, Felix said.
"Next, he looked at the organizations' missions. The mayor's always been very interested in individuals with disabilities, in seeing those individuals being afforded the opportunity to engage in gainful employment and reach their full potential."
Abilities Unlimited, a 25-year-old local nonprofit, services the homeless, poverty-stricken, recovering alcoholics and drug addicts, ex-convicts and veterans of war.
"Do you know that the unemployment of people with disabilities costs the nation $480 billion a year?" asks Julie Murray, president and CEO of Abilities Unlimited. "Most all of them, with proper support, can work. This is a huge driving force of our organization."
FOR THE MOST PART, Flavors replicates Taste's winning formula: three days of 24 restaurants serving up a wide variety of dishes, plus live entertainment, all presented in an open-air setting. Abilities Unlimited even hired some of the same staff to ensure a smooth transition from the Easter Seals' helm to theirs.
There is, however, a crucial difference: Flavors will be run primarily by volunteers. Some 1,000 will descend upon the grounds of Honolulu Hale to run the show, from the highest echelons of the event -- including the likes of Tom Moffatt as entertainment chairman, Keola Lloyd of Campbell Estate as sponsorship chairman and Mike McCartney as media chairman -- to those who provide the most basic services.
"It became apparent with Taste of Honolulu that payment to the beneficiaries of the event was not as large as it could have been," Murray says. "With Flavors of Honolulu, more of the services are donated. The majority of money will go to our organization, and 100 percent of the money raised stays in Hawaii."
Murray says Abilities Unlimited envisions turning Flavors into a huge multicultural festival.
A few additions this year reflect that perspective. Pacific Handcrafters Guild will hold a craft fair, and guest chef Kieran Greg Hema of New Zealand will bring with him 1,000 pounds of his country's famous mussels, preparing them New Zealand-style.
"In today's market, we have individual festivals here and there," she says. "We want to hold one big festival that represents the entire state."
---
FULL STORY »
Eh, what you like eat? Whatever it is you're in the mood for, it's likely this weekend's Flavors of Honolulu will be able to deliver. Vegetarians can try out Big Wave of Flavors Tomato Bar's "Granny Smith" Island-Style Fried Green Tomato; manapua fans can revel in The Mandalay's Dim Sum Platter; Greek freaks will rush Greek Marina's gyros and hummus; and the dessert-first folks' heads will spin: There's Chocolate-Covered Haupia Baklava courtesy Da Spot Health Food and Juices, Hawaiian Cobbler with Macadamia Nut Ice Cream from Bali by the Sea and Ujikintoki (green tea) shave ice by Ichiriki, to name a few sweet selections. And there are still 70 other dishes to choose from.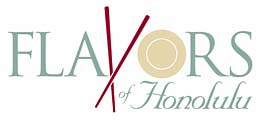 In addition to the 24 vendors at the three-day festival, this year's event will feature special one-day booths from "Chefs of the Day" as well as the usual wine-tasting and celebrity cook-offs. And for those who want to attempt culinary artistry in your own kitchen, there will be a mini farmer's market as well.
For now, here's a recipe that will be featured at the festival, courtesy of Musashi Restaurant at Hyatt Regency Waikiki Resort and Spa.
Napoleon of New York Steak, Teriyaki Style
3 pounds New York Steak, sliced into 36 pieces, 1/2-inch thick
1 large zucchini, cut into 12 2-inch-by-2-inch pieces
3 large red or green bell peppers, cut into 12 2-inch-by-2-inch pieces
3 medium onions, cut into 12 1/2-inch slices
12 medium white mushrooms
1-1/2 cups Yakiniku Dipping Sauce (recipe follows)
Roasted sesame seeds and chopped green onion, for garnish
Prepare a hibachi grill.
Marinate steak and vegetables briefly in dipping sauce. Strain through fine sieve, reserving sauce.
Grill steak and vegetables to desired doneness.
To assemble: Place onion slice on a plate. Top with alternating layers of steak, bell pepper and zucchini (3 slices steak per plate). Top with mushroom cap and fasten with wooden skewer.
Heat strained dipping sauce and thicken lightly using a water and cornstarch mixture.
Top each steak-vegetable stack with sauce. Garnish with green onions and sesame seeds. Makes 12 stacks.
Yakiniku Dipping Sauce
2 cups soy sauce
2 cups mirin (Japanese sweet cooking wine)
1 tablespoon minced garlic (3 to 4 cloves)
1 large Fuji apple, grated with skin on
1 tablespoon grated ginger
1 tablespoon brown sugar
1/4 cup grated onion
1/4 cup honey
1 teaspoon sesame oil
1/3 cup chopped green onion
1 slice lemon
Combine ingredients (squeezing lemon juice into mixture, then leave lemon slice in sauce). Blend well and refrigerate 1 day, to allow flavors to blend. Sauce will keep 2 to 3 weeks and may be used as a marinade or dipping sauce. Makes 5 to 6 cups.
---
BACK TO TOP
|
Schedule of events
Restaurants participating
» 3-Star Gourmet Restaurant and Catering
» Bali by the Sea
» Ciao Mein
» The Colony
» Da Spot Health Foods & Juices
» Dave & Busters
» Down to Earth
» Big Wave of Flavors Tomato Bar
» Golden Dragon
» Gordon Biersch Brewery Restaurant
» Greek Marina
» Hong Kong Harbor View Restaurant
» Ichiriki
» Lily Koi Restaurant
» The Mandalay
» Musashi
» The O Lounge
» Seoul Jung at the Waikiki Resort Hotel
» Shanghai Bistro
» Tony Roma's
» Top of Waikiki
» Tudo de Bom
» Village Steak and Seafood
» Zaffron
Celebrity cook-offs
Friday
» 5:30 p.m.: San Francisco 49ers Eric Wright vs. Jesse Sapolu
» 7 p.m.: Matson Navigation Co. vs. Horizon
» 8:30 p.m.: Honolulu Police Department deputy chief vs. Honolulu Fire Department deputy chief
Saturday
» 12:30 p.m.: House Speaker Calvin Say vs. Senate President Colleen Hanabusa
» 2 p.m.: Democratic Party Chairman Mike McCartney vs. Republican Party Chairman Sam Aiona
» 3:30 p.m.: Chef Eric Leterc (Pacific Club) vs. Chef Fred DeAngelo (OIa at Turtle Bay Resort)
» 5 p.m.: Lt. Gov. Duke Aiona vs. Augie T
» 6:30 p.m.: Jimmy Borges (opponent to be announced)
» 8 p.m.: Dave Kennedy (Honolulu Star-Bulletin) vs. Joe McNamara (KHON2)
Sunday
» 12:30 p.m.: Wilson (Artie) vs. Wilson (Dave)
Chefs of the day
Friday
» DK Kodama, Sansei Seafood & Sushi Bar
» Elmer Guzman, Poke Stop
Saturday
» Russell Siu, 3660 on the Rise and Kakaako Kitchen
» Kieran Greg Hema, Wairakei Terrace, New Zealand
» Jackie Lau, Roy's
Sunday
» Alfredo Lee, Sergio's Italian Restaurant
» Kieran Greg Hema
---
For a list of entertainment events, see HiLife, in the Thursday evening and Friday morning editions of the Star-Bulletin.