---
BOOKSHELF
Pineapple is main ingredient
"Tastes & Flavors of Pineapple" is the latest in Mutual Publishing's series of Little Hawaii Cookbooks.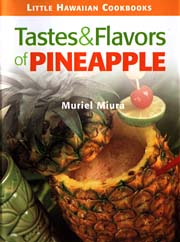 Author Muriel Miura has compiled 50 recipes for using pine in everything from the obvious desserts and drinks to the not-so-obvious main dishes, such as Pineapple Lobster with Black Beans.
The pocket-size book sells for $7.95 in bookstores or through www.mutualpublishing.com.
Pineapple fest: While we're on the subject of pineapples, Saturday marks the 15th Annual Pineapple Festival on Lanai, 3 to 10 p.m. in Dole Park.
Activities include a pineapple-eating contest, a dessert contest, food, crafts, exhibits and games. Entertainment, presided over by emcee Karen Keawehawaii, will include a Lanai Idol contest.
Call (808) 565-3240 or e-mail ewatanabe@castlecooke.com.