---
FAST FACTS HAWAII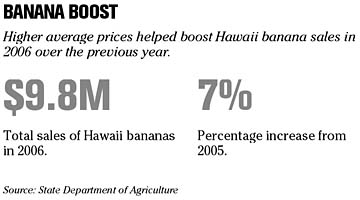 ---
HAWAII
Isle iPhone fans scouting stakeouts In New York, there have been reports of people already lining up in front of Apple Stores, waiting for Friday's arrival of the hyped-up iPhone. On Oahu, would-be buyers can't stake out as early since the stores are located in malls -- but already there are signs of a frenzy beginning.
"We have had quite a few customers calling and asking if they can camp out," said marketing director Kelly Kauinana of Kahala Mall, an Apple Store location. "We close at night but technically people can start lining up at 6 a.m. Friday."
The other Apple Store in Hawaii is in the Ala Moana Center. Both will close at 2 p.m. to prepare for the launch and will begin selling the Apple Inc. phone at 6 p.m.
The iPhone, sold for $500 and $600 plus a service plan costing $60 to $100 a month, will also be sold at AT&T stores, which will close at 4:30 p.m. Friday and reopen at 6 p.m.
Makena Resort sale completed
Morgan Stanley Real Estate
and the
Dowling Co.
closed their purchase yesterday on the Makena Resort for $575 million. The move was expected following the settlement earlier this month of a lawsuit that had blocked the sale.
The 1,800-acre resort includes the 310-room Maui Prince Hotel, two 18-hole golf courses and some 1,300 acres of undeveloped land.
With the sale behind it, the Maui resort is positioned to become home to the first housing project in the state to earn certification as an environmentally friendly community: Dowling's 69-unit Maluaka luxury project.
The new owners have stated that they will assume the current International Longshore and Warehouse Union contract and retain all of the resort's union employees.
Safeway sets Kapahulu tenants
Safeway has selected about half the tenants for the Kapahulu Avenue retail complex surrounding its 13th Oahu store.
Among those selected for the Avenue Shops at Safeway Center on Kapahulu are Seattle's Best Coffee, Cold Stone Creamery, Pearl's Korean BBQ, Good to Grill and Caliente del Sol.
The latter two are new concepts to be opened by local partners Wes Zane and Almar Arcano.
First Hawaiian Bank and Starbucks will be inside the Safeway supermarket at 870 Kapahulu Ave., which will measure 64,126 square feet. Safeway is also in discussions with the U.S. Postal Service about a local post office for the complex, which is expected to open by the end of the year.
NATION
Harry Potter book sells for $18,000 LONDON » A first edition Harry Potter book fetched $18,000 at auction yesterday.
The winning bid for the first novel by J.K. Rowling that launched Pottermania went to an anonymous buyer. The auctioneers, Bonhams, had estimated the book would sell for between $10,000 and $20,000.
First editions of "Harry Potter and the Philosopher's Stone" -- published in the United States as "Harry Potter and the Sorcerer's Stone" -- are valuable because of their rarity, the auction house said. The publishers produced between 500 and 1,000 copies in the book's first run.
---
HAWAII INC.
New Hires / Promotions
» Morgan Stanley has hired
Winnie W. Wong
as a financial adviser at the firm's global wealth management group office in Honolulu.
» First Insurance Co. of Hawaii has hired Karen Lewis as project consulting group manager. She will assist the information technology team in managing the enterprise system project. She previously worked at Vitech Systems Group and has more than 20 years of project and IT management experience.
» Young Brothers has named Matthew "Matt" Humphrey as vice president and general manager. He replaces Vicente "Vic" Salas Angoco Jr., who relocated to Guam. He will be responsible for all maritime operations and safety, risk and environmental management. He previously served as project manager for APM Terminals Pacific in Los Angeles.
» KPMG has named Nancy C. Rose as managing partner. She replaces Patrick Ford, who relocated to the firm's Los Angeles office. She previously served as a lead engagement partner at the firm's Sacramento office.
» Kisco Senior Living has named Ken Nakamura as general manager for 'Ilima at Leihano. He will be responsible for day-to-day operations of the Kapolei property currently under development. He has more than 25 years of management experience in hospitality, food and beverage, and real estate in both public and private sectors.
» Four Seasons Resort Hualalai has promoted Ilse Harvey to resort manager. She will be responsible for day-to-day operations, including rooms, food and beverage, and engineering divisions. She previously served as director of rooms for Four Seasons Resort Maui at Wailea and has more than 19 years of experience in the hospitality industry.
» Summa Hawaii has hired Cindy Chinen as an accounts administrator. She previously served Cutter Dodge and has more than 30 years of experience in accounting and administration.
» Maui Pineapple Co. has hired Aaron Nakamura as territory sales manager. He will manage Hawaii sales, and expand retail for fresh, processed and food service pineapple products. He previously served as sales manager for HPC Foods and has extensive experience in food industry sales management, produce manufacturing, distribution and merchandising.
» Tiki's Grill & Bar has named Kapolanialaimaka "Kapo" Kealoha as executive chef. He will oversee the culinary aspect of the restaurant, maintaining food quality and consistency, menu planning, hiring and training. Prior to his return to Hawaii, he previously served at Four Seasons Hotel Silicon Valley in California and Four Seasons Resort Jackson Hole in Wyoming.
» Prudential Locations has announced the following new hires: Mikio Sato has been hired as chief financial officer. He previously served as assistant controller at Sony Hawaii. Ellen Hiromoto has been hired as sales manager and broker-in-charge. She previously served as a Realtor and broker-in-charge at Coldwell Banker Pacific Properties for 26 years. Andrew Roth has been hired as senior online marketing manager. His previous positions include manager of eCommerce at Hilo Hattie and vice president of marketing at Inovaware Corp.
---
BUSINESS PULSE