---
[ BOOK SHELF ]
Book gives child's view of tsunami
The 1946 tsunami at Laupahoehoe Point is seen through a child's eyes in the generational tale, "The Tsunami Quilt" (Sleeping Bear Press, hardcover, $17.95).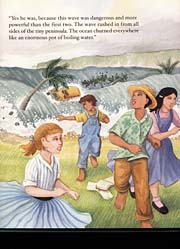 Honolulu artist Tammy Yee illustrated the book, which was written by Anthony D. Fredericks, a Pennsylvania-based writer who is a frequent Hawaii visitor.
It tells of young Kimo, who learns that his grandfather saw his own brother swept to sea in the tsunami. The huge waves took the lives of 24 students and teachers from the Laupahoehoe school.
"Your grandfather ran up the road to the cliffs with all the power in his legs," Kimo's father tells him. "He stopped and turned to see people tossed around like dolls. He stared as classmates were sucked into the ocean beyond the shoreline. He heard their cries and screams."
Heavy stuff for a children's book, but it ends in the spirit of healing and remembrance, as Kimo's father takes him to see the memorial quilt at the Pacific Tsunami Museum in Hilo.
Find "The Tsunami Quilt" in bookstores or online at www.sleepingbearpress.com.
---
[ MOVIE PREVIEW ]
Opening tomorrow
"Live Free or Die Hard"
: It's explosive action aplenty as Bruce Willis reprises his role as everyman hero John McClane. On the Fourth of July, an attack on the vulnerable U.S. infrastructure begins to shut down the entire nation. But leave it to McClane to save the day. "Yippee-ki-yay ..." Review on D2. Rated PG-13.
Opening Friday
"Ratatouille"
: A rat named Remy dreams of becoming a great French chef despite his family's wishes and the obvious problem of being a rat in a decidedly rodent-phobic profession. But things change when he finds himself in a restaurant made famous by his culinary hero, Auguste Gusteau. The Disney Pixar movie is directed by Brad Bird ("The Incredibles"). (G)
"Death at a Funeral": A dysfunctional British family gathers for the patriarch's funeral. Tensions rise, old conflicts are uncovered and, when a man arrives saying he's the dead man's gay lover and threatens blackmail, drastic measures are taken. Directed by Frank Oz; Matthew Macfadyen and Peter Dinklage lead the cast. (R)
Special offer
Laie Cinemas is accepting nominations for a resident to be recognized for community service, in connection with the film "Evan Almighty." A winner will be chosen Thursday, with the winner to receive 52 movie passes. Make nominations at the theater.