Isle self-employed numbers up 4%
Hawaii, which ranked No. 23 in growth, is part of a national trend
Hawaii is following a national trend in which more individuals are straying from traditional jobs and going into business for themselves, without any paid employees.
The number of so-called "lone wolves," and the amount of business they do, is growing both in Hawaii and nationally, according to data released yesterday by the U.S. Census Bureau.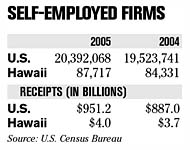 In receipt growth, Hawaii ranked No. 10, recording a 9 percent growth to $4 billion in 2005 from $3.7 billion in 2004, according to the census bureau.
Hawaii ranked No. 23 in the growth of the number of self-employed businesses, recording a 4 percent increase from 84,331 in 2004 to 87,717 in 2005.
These numbers are encouraging, said Eugene Tian, a research and statistics officer at the state Department of Business, Economic Development & Tourism, given that 95 percent of the businesses in Hawaii are small businesses and 76 percent here are lone wolves.
Nationwide, the number of businesses without a payroll surpassed 20 million in 2005 -- up 4.4 percent over 2004 -- recording some $951 billion in receipts -- up 7.5 percent. On average, 2,356 people a day went into business for themselves during the year.
The District of Columbia led the nation in the growth of these small businesses, with a 9.6 percent increase between 2004 and 2005, followed by Nevada at 7.7 percent and Florida at 7.6 percent.
The District of Columbia also led the nation in growth of receipts, with a gain of 15.5 percent to $1.9 billion recorded in 2005 by lone wolf businesses.
Nevada ranked second in growth of lone-wolf businesses, followed by Florida, Georgia and Utah. Georgia and Utah recorded increases of 7.6 percent and 7.2 percent in the number of firms without payroll employees.
Nonemployer firms may be run by one or more individuals, and can be home-based businesses or corner stores or construction contractors. Often- times, they are part-time ventures with owners operating more than one business.
Among the fastest-growing industries nationally are: Web search portals, which grew by 41.2 percent, Internet service providers, which grew by 16.6 percent, nail salons, which grew by 18 percent, electronic shopping and mail-order houses, which grew by 12 percent, recreational vehicle dealers, which grew by 12.1 percent, and landscaping services, which grew by 11.1 percent.
Tian, in his own analysis of the census numbers, said the state's primary lone-wolf fields between 2004 to 2005 were in construction, transportation, finance, insurance and real estate leasing.
The census bureau culled its non-employer statistics data from the Internal Revenue Service's tax return information.