Aloha's first quarter net loss widens to $24.3M
Aloha Airlines, pressured by the interisland airfare war and trying to cope with high fuel prices, lost $24.3 million in the first quarter -- its 14th consecutive quarterly loss.
The privately held carrier, which emerged from bankruptcy in February 2006, had a net loss of $20.3 million a year ago.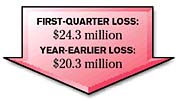 It had $33.8 million in cash as of March 31, up from $28.1 million at the start of the year.
Revenue continued to slide as it fell to $88.1 million, down 10.3 percent from $98.2 million a year ago, according to preliminary data released yesterday by the federal Bureau of Transportation Statistics.
"The current environment produced lower interisland revenues and the cost of fuel was up," said David Banmiller, president and chief executive of Aloha.
In an attempt to remain competitive with interisland newcomer go!, Aloha has been forced to offer money-losing, one-way fares that dropped to as low as $19 in the first quarter. Those fares fell as far as $9 in the second quarter -- which Aloha matched -- and then later to $1 during a special go! promotion. Aloha didn't match the $1 tickets.
Aloha, which slashed $75 million to $90 million in annual expenses during its 13-month stay in reorganization, still saw its operating expenses rise 7 percent in the first quarter to $109.9 million from $102.7 million a year ago. Fuel costs rose 4.2 percent to $23 million from $22.1 million.
The carrier's operating loss widened to $21.8 million from $4.4 million.
Aloha, however, wasn't alone in suffering during the most recent quarter as rivals Hawaiian Airlines and go! -- which both reported results in May -- also had losses. Hawaiian had a net loss of $11.9 million in the quarter while go!'s parent company, Mesa Air Group Inc., lost $24 million. Mesa doesn't break out its numbers separately for go! but said go!'s operating income came in $650,000 below plan.
Aloha, which operates 21 aircraft, including 13 interisland, reported last month that it lost $41.5 million in 2006.
The carrier also is suing Phoenix-based Mesa, alleging that go! is offering unrealistic fares to drive Aloha out of business, and has used proprietary information obtained as a potential bidder during Aloha's bankruptcy. A hearing is set for next year.