---
FAST FACTS HAWAII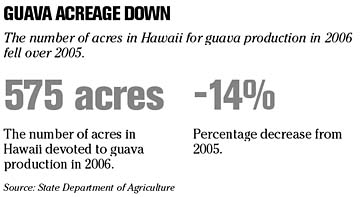 ---
NATION
Walgreen net income rises CHICAGO » Drugstore chain Walgreen Co. said yesterday its third-quarter profit rose nearly 20 percent, propelled by a growing market share in its top products and an increase in prescription sales.
The nation's biggest drugstore chain by revenue earned $561.2 million, or 56 cents per share, in the quarter that ended May 31. That's up from $469.2 million, or 46 cents per share in the year-ago period. Quarterly results include a $13.5 million credit for resolving a multiyear state tax matter.
Revenue climbed nearly 13 percent to $13.7 billion from $12.2 billion last year, but fell short of forecasts.
Same-store sales, a key retail measure of sales in stores open at least one year, rose 7.8 percent during the quarter. Non-pharmacy, same-store sales climbed 5.6 percent.
Murdoch, Dow Jones near deal
NEW YORK » Talks between Rupert Murdoch's
News Corp.
and
Dow Jones & Co.
have accelerated and the two sides appear closer to reaching an agreement on protecting the editorial independence of the Wall Street Journal, according to news reports yesterday.
With no other serious bidders in sight for Dow Jones, Murdoch could wind up winning control of the company if the two sides can agree on measures to safeguard the Journal's news coverage.
The New York Times and the Journal reported yesterday that News Corp. had responded to proposals from Dow Jones about an editorial oversight board that would be created to protect the Journal from corporate interference. Murdoch has offered $60 a share for Dow Jones, a premium of about 65 percent above the mid-$30s share price Dow Jones was trading at prior to the offer in May.
WORLD
Nintendo tops Sony's market value TOKYO » Nintendo Co.'s market value surpassed that of Sony Corp., a company with eight times more revenue, underscoring the success of the Wii game console in outselling rival PlayStation 3.
Shares of Nintendo, based in Kyoto, western Japan, rose to a record 46,350 yen, valuing the company at 6.57 trillion yen ($53 billion), and overtaking Sony's 6.48 trillion yen capitalization in trading yesterday. Nintendo's stock closed 0.8 percent lower at 45,100 yen.
Sony, which overtook Nintendo as the world's biggest console maker after PlayStation 2's introduction in 2000, suffered production delays and slow sales at its latest player. Wii's lower price and a wand-like controller that players swing like a sword or tennis racquet helped Nintendo widen its sales lead over the PlayStation 3 in Japan last month.
China may screen acquisitions
BEIJING » China is tightening controls on foreign takeovers of Chinese companies, adding a requirement for national security reviews to a proposed anti-monopoly law, news reports said yesterday.
Beijing stepped up scrutiny of foreign takeovers after an uproar in 2005 over U.S. investment fund Carlyle Group's offer to buy Xugong Group Construction Machinery Co. a maker of construction equipment.
Such examinations have been required under Ministry of Commerce regulations issued last year, Xinhua said. Before that, only acquisitions worth more than $100 million required a review.
Japan Airlines cuts back
Japan Airlines Corp. will cut 2,300 employees this fiscal year to reduce debt and labor costs, its president said today at the company's annual meeting in Tokyo. Asia's biggest carrier by sales also has sold five hotels and will cut bonuses and benefits. The airline also plans to introduce new planes to cut fuel costs and to win domestic passengers from All Nippon Airways Co.
---
BUSINESS PULSE