---
BOOK SHELF
Book launch will include bone-marrow registration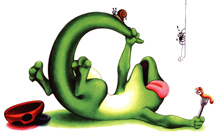 Author and illustrator Melissa DeSica received preview copies of her new children's book, "Gecko and Mosquito," the same week that she was diagnosed with leukemia. Now, her book launch -- at 6 p.m. Wednesday at Borders Ward Centre -- has been turned into a bone marrow registry drive as well.
"Gecko and Mosquito" (Watermark, hardcover, $14.95) tells of the battle of wills between a bullying gecko and a quick, clever mosquito. It is available at bookstores or through www.bookshawaii.net. Call (866) 900-BOOK.
Adults up to age 60 may register as bone-marrow donors. Call 547-6154 or visit www.marrow.org.

Plate-lunch special: 76 cents at Wal-Mart L&L
Three quarters and a penny will buy you a plate lunch from 11 a.m. to 1 p.m. Wednesday at L&L Drive-Inn at the Keeaumoku Wal-Mart.
That's right, 76 cents for regular-sized plates of chicken katsu, hamburger steak and kalua pork with cabbage. Another 10 cents buys a soda.
T-shirts will go to the first 100 people in line, and all proceeds from the 76-cent sales will go to Goodwill Industries of Hawaii.
The first L&L opened in Hawaii in 1976 -- thus, the price point -- and has grown to 170 restaurants nationwide.
Volunteers needed for BayFest celebration
Lex Brodie's BayFest 2007 has put out the call for volunteers willing to help in the food and beer tents or with marketing.
BayFest takes place Friday through Sunday at Marine Corps Base Hawaii at Kaneohe, featuring Gretchen Wilson, Three Days Grace and Alan Jackson, plus carnival rides, games and fireworks.
Volunteers receive free admission to general attractions, T-shirts, meal coupons and other incentives. Minimum age is 16 to help conduct customer-satisfaction surveys; 21 to serve alcohol.
Call (808) 254-7631.
Wine company hosts Ala Moana clean-up
Barefoot Wine, suited to its name, is hitting the sand on a mission of cleaning up beaches across the country -- and making them "barefoot friendly."
Partnering with the non-profit Surfrider Foundation, the winemaker has initiated the Barefoot Wine Beach Rescue Project and is organizing clean-ups coast to coast.
The project comes to Ala Moana Beach Park on Saturday. Volunteers are needed from 2:30 to 4:30 p.m. at the beach.
After the work is done, a free 21-and-over party will be held from 5:30 to 8 p.m. at Local Motion Waikiki, featuring Barefoot wines, food and a performance by Jill Cunniff of Luscious Jackson, the project's spokeswoman.
To volunteer, RSVP at the Web site, www.barefootwine.com/beachrescue.