---
FAST FACTS HAWAII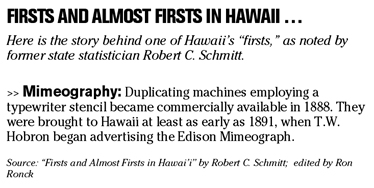 ---
NATION
Motel 6 to recycle light bulbs
Motel 6, the lodging chain known for the advertising slogan "We'll leave the light on for you," said it plans to recycle more than 60,000 fluorescent light bulbs each year. The bulbs consume about 75 percent less energy than conventional light bulbs.
The voluntary program, aimed at reducing energy consumption, is the first of its kind in the industry, the chain said in a statement today. The company, a unit of Paris-based Accor SA, has about 900 hotels in the U.S.
Motel 6 also will recycle batteries, such as those used in door locks, spokeswoman Laura Rojo-Eddy said. The program will cost about $90,000 a year, and the company expects to save about $1.3 million in energy costs by replacing 450,000 conventional light bulbs with fluorescent ones, she said.
Waste-management companies Oakleaf and Veolia Environmental Services will help administer the program, Motel 6 said.
It's nice to have friends at work
More than half of executives and 63 percent of employees report that job performance improves when co-workers are friends outside the office.
Employees who have buddies at work are more eager to come to the office and enjoy their workday, which translates to higher productivity, said David Araldi of the staffing firm Accountemps, which conducted the nonscientific survey.
"One of the main reasons people decide to stay at an organization is because of who they're working with and working for," he said.
Excessive chumminess can lead to workplace cliques, however, or stifle brainstorming among friends who don't want to compete with each other, Araldi said.
Strong work relationships don't have to develop over a beer at the local pub, either. Management and staff can work together during office hours to communicate responsibilities and check progress, he said.
The survey included responses from 150 senior executives with the nation's 1,000 largest companies and more than 500 full- or part-time office workers.
Job seekers urged to keep it real
Thanks to technology, new graduates have a few more tools in their job-hunting belts. Instant messaging and text messaging are the new networking go-tos -- but exercise some caution before you hit "send."
Job seekers can enlist the help of friends, classmates and family members in their instant and text message contact lists in their work search, said Greg Gostanian of the outplacement firm ClearRock. Those people can then lead to commonly overlooked networking contacts, such as doctors, clergy and hairstylists.
While instant and text messaging are quick and convenient forms of communication, they're not acceptable when asking for a meeting or job interview with someone you don't know well, Gostanian said.
Even if you get your hands on someone's text address or instant message name, don't make initial contact that way. Unsolicited messages are often unwelcome and likely will wind up in the delete bin.
"I don't think there's any substitute when you're networking for a phone conversation," Gostanian said.
Gallup names best places to work
Do you know what's expected of you at work? Do you have the materials and equipment to do your job well? Do you have the opportunity to do your best work every day?
If you answered yes to those questions, your company might have earned a "Great Workplace Award" from the Gallup Organization for fostering an engaged work force.
Gallup honored the following 12 winners, in no particular order, for 2007: Wholesale distributor ABC Supply Co. Inc., British home improvement chain B&Q, health insurer Blue Care Network of Michigan, Campbell Soup Co., Hendrick Health System of Texas, Marriott Vacation Club International, Starbucks Corp., St. Joseph Health System of California, medical device manufacturer Stryker Corp., The Park Hotels of India, Wells Fargo & Co. Regional Banking, and hotel management company Winegardner & Hammons Inc.
The awards were based on worldwide research of more than 10 million employees, workplace evaluations, and a set of 12 survey questions returned with a response rate of at least 80 percent.
Employee pay and benefits, however, were not among the award criteria.
---
BUSINESS PULSE