HAWAII GROWN REPORT
Santos calls it a career
Chad Santos decided it was time to hang up the glove and spikes when he was released by the San Francisco Giants on June 1.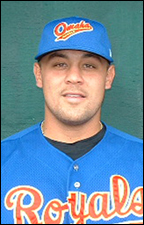 "I could have signed with another team, but I have a wife and two young children and it was getting hard. It was hard on them and I want my kids to grow up at home," said Santos, a Kaneohe resident who played pro baseball for nine summers.
He was drafted in the 22nd round in 1999 by the Kansas City Royals following his senior year at Saint Louis. He worked his way up in the Royals' organization to the Triple-A level at Omaha in the Pacific Coast League in 2005.
Santos, a left-handed-hitting first baseman, became a free agent after that season and signed with San Francisco. He spent most of the last two years with the Giants' Triple-A team in Fresno, Calif.
However, last summer he played three games in the majors with the Giants, getting a hit (3-for-7, .429) in each game, including a home run against San Diego in the last one.
Despite hitting .308 in 20 spring training games this year, Santos was optioned to Fresno and platooned at first base with the right-handed-hitting Lance Niekro.
Santos was hitting .243 (25-for-103) with seven doubles, four homers and 15 RBIs when released.