PAUL DURHAM / 1913-2007
Former UH athletic director won players' respect
STORY SUMMARY »
He was inducted into the University of Hawaii Sports Circle of Honor, the Linfield College Athletic Hall of Fame and the Los Angeles Football College Hall of Fame.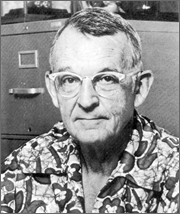 But the honor that perhaps meant the most to Paul Durham was the annual summer gathering of his former Linfield football players in McMinnville, Ore.
"That says a mouthful about the respect his players had for him, that they came back to see him every year," said former UH athletic director Hugh Yoshida, who played for Durham at Linfield from 1958 to 1961. "He was a very strict coach but very understanding. We lost a good man."
Durham, who served as UH's athletic director from 1968 to 1975, died Friday night at his Kahala Nui residence. He was 93.
Durham was unable to attend the Linfield reunions the past few years and had not planned to attend the one next month. He recently, however, videotaped a message to his former players that will be shown during the July 10 gathering.
"I know it will mean a lot to the guys," said Al Wills, the former Kalani athletic director who played for Durham at Linfield from 1949 to 1952.
---
FULL STORY »
Tony Ah Yat so respected Paul Durham that he named his first-born son for his former college football coach.
"He truly lived aloha," Ah Yat said yesterday. "All my adult life, he was like my dad. He always made you feel like you were the greatest.
"I feel fortunate that I was able to spend a lot of time with him this past week, saw him Friday. We lost a great, great man."
Durham, the 13th athletic director at the University of Hawaii (1968-75), died Friday evening at his Kahala Nui residence. He was 93.
Ah Yat is part of the still-running island pipeline that has sent dozens of players to Linfield College in McMinnville, Ore. Durham, remembered as one of the founding fathers of the Wildcats athletic program, fostered the relationship with Hawaii as football coach (1948-67) and athletic director (1949-68).
Less than a year after Durham brought Linfield to play in Honolulu Stadium -- beating the Rainbows 15-13 in the 1967 season-opener -- he was hired to succeed Robert Martin as athletic director.
Durham was 122-51-10 (.694) in his 20 years at Linfield, guiding the Wildcats to six conference titles and two appearances in the NAIA national championship game. He was named Oregon Man of the Year in 1961 and NAIA Coach of the Year in 1962. His 1956 team started a string of consecutive winning seasons that reached 51 last season
Durham was a star athlete at Linfield in the 1930s and earned 10 letters in football, basketball and track. He graduated in 1936, then coached at several area high schools before returning to his alma mater in 1948. The foyer that serves as the main entryway into the athletics complex was named in his honor in 1989.
Durham was inducted into the NAIA Hall of Fame in 1969, Los Angeles Football College Hall of Fame in 1975, UH Sports Circle of Honor in 1996, the Linfield Athletics Hall of Fame in 1998 and the National Association of Collegiate Directors of Athletics Hall of Fame last year. This February, he was honored by the Honolulu Quarterback Club for his service to the organization.
Durham accomplished much in his tenure at UH, helping position the school for the eventual move from independent to Western Athletic Conference membership. He hired legendary baseball coach Les Murakami in 1971 and oversaw the "Fab Five" men's basketball team's rise to national prominence (1970-72).
"He was a great man and did some great things for us during those years," said Bob Nash, a Fab Five member who recently was hired as head basketball coach. "He helped bring us all to Hawaii to play, was always very supportive of the program. It is truly a loss for Hawaii."
"Even though I didn't work for him, I got to know him well during my time," said recently retired Rainbow basketball coach Riley Wallace. "He was someone who loved UH every second of the day. I enjoyed him coming into the office, talking story about the past and where we were going."
Al Wills was on Durham's second team at Linfield in 1949. The former Kalani athletic director played for the Wildcats for four seasons, then returned after a stint in the Army as Durham's assistant line coach.
"He was a father to all of us then and he's been a father to all of us through the years," Wills said. "All of us kids ... old guys now ... have so much to thank him for. It seems that he was always a part of my life.
"We used to play golf every Monday, but one Monday he said, 'Let's go to the Quarterback Club and listen to (newly hired UH football coach) Fred vonAppen.' We never played golf on Mondays again."
That was in 1996. Durham rarely missed a Quarterback Club meeting after that.
Durham is survived by sons Jeff and Terry of Oregon, daughter Cathy of Illinois, seven grandchildren and seven greatgrandchildren. Services have tentatively been scheduled for Thursday at Borthwick Mortuary. Additional services will be held in McMinnville.