Deal saves Molokai land from future developers
The purchase is the first use of state land conservation funds
KAINALU, Molokai » A 168-acre swath of land on Molokai's southeastern shore will be shielded from development forever after a nonprofit organization used state and federal grant money to purchase development rights for the property.
The $2.3 million deal marks the first time state legacy land conservation funds have been used. It's also the first time federal farm protection funds have been used in Hawaii.
The Maui Coastal Land Trust bought the development rights from Kainalu Ranch landowner Kip Dunbar, a third-generation rancher. Dunbar and future landowners retain the rights to use the land for agriculture.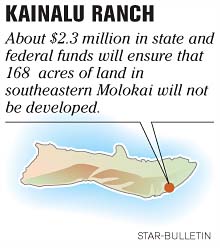 Dale Bonar, trust executive director, said the arrangement doesn't allow landowners to make as much money as they might by developing the property. But he said it provides landowners with an incentive to stay in farming.
"Just as important, it may be the only way heirs could keep the land since its value is reduced, thus reducing probate taxes," Bonar said.
The trust announced the deal Friday, a week after the permanent conservation easement was recorded at the state Bureau of Conveyances.
Trust officials declined to disclose the agreement terms. But Molly Schmidt, state legacy land conservation program coordinator, told the Maui News the price amounted to $2.3 million.
"Though my children and I have no intentions of leaving Molokai, this agreement has given us the assurance that these lands will remain in agriculture and open space no matter who may come to own them in the future," Dunbar said.
The state Legacy Lands program contributed $1.1 million of the price. The U.S. Department of Agriculture's farm and ranch lands protection program chipped in the remaining $1.2 million. Ten percent of the real estate conveyance tax taken in the state, about $5 million annually, goes to the legacy lands fund.
Launched in 2005, the program is tasked with awarding grants to state agencies, the counties and nonprofit land conservation organizations to buy land considered significant. For example, the property must be culturally important, scenically beautiful or have wide open space.
The federal farm and ranch lands protection program aims to preserve farmland for agriculture and keep farmers and ranchers in the agriculture business.
The funds must go toward land that is privately owned, large enough to sustain agricultural production, accessible to markets, and has adequate infrastructure and agricultural support services.
Landowners retain rights to use the property for agriculture in perpetuity.
"Keeping agricultural lands available for our grandchildren and their grandchildren is critical for sustaining Hawaii's future," said Larry Yamamoto, director of the Pacific Island Area office of the Natural Resources Conservation Service.