BOOK REVIEW
Anthology of authors with isle ties doesn't live up to hype
"Undrawn Lines" is a collection of 15 short stories celebrated for all the wrong reasons. First, its editor, Amber Stierli, is a young woman from the University of Hawaii and Jelly's Bookstore who shelled out $7,000 of her own money to publish the book.
"Undrawn Lines: An Anthology of Fiction"
Compiled and edited by Amber Mui Fah Stierli

(Monkeypod Ink 2006)

Hardcover, 181 pages, $10

Order through bookstores or www.amazon.com
Second, its appearance has been hailed by feminists, here and abroad, as an instance of "women-can-do-it" entrepreneurship.
And third, undue emphasis has been placed on Stierli's chief principle of selection -- that the writers themselves possess deep personal connections with Hawaii (as opposed to merely writing about Hawaii). These are stories by Hawaii-related writers rather than stories about our islands.
"I was meeting strong writers," Stierli notes in her preface, "but they were sending their manuscripts to the mainland for publication. Why? There is no market here for writing that is not set in Hawaii."
This is true enough, and Stierli's basic concept is a sound one. It's just that the end result does not justify the hype, e.g., "a beautiful book ... an impressive collection that's not to miss" (Wow! Women on Writing).
In light of the generous comments, it's hard to be churlish. Yet the truth is that "Undrawn Lines" is justified only as a mild alternative to Danielle Steele or John Grisham. The stories are mostly unchallenging and in many cases seriously overwritten -- for example, minor details given exaggerated prominence, or lame endings that don't fully support their writers' demands that, echoing Arthur Miller, attention should be paid to such a person, or such people under such circumstances.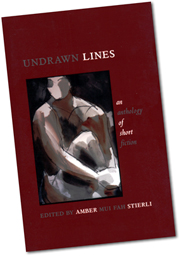 The tale that most bears this out is an over-long parable called "The Story of the Beautiful Red Star," by Norm Winters, in which a motherly she-star gives up "her spirit to save the spirit of a baby star." This generates such grief among the other planets "that they absorb and dissolve the negatons of earth," etc. Like a kiddie book, this is followed by a little ditty, music and all, called "The Stars Weeping Song."
Other stories touch on such matters as unrequited love, a young girl's growing lesbianism, tensions between roommates and the relationship between a haole boss and his Hawaiian worker (one or two of the stories are in fact set here).
None of them seems to get anywhere. Each makes for a mildly distracting read. A slow afternoon on the beach would be a good place for it.
---
Michael Egan
is scholar-in-residence at Brigham Young University-Hawaii and Adjunct Professor of English at TransPacific Hawaii College. His latest book is "The Tragedy of Richard II, Part One: A Newly Authenticated Play by William Shakespeare." E-mail him at
drmichaelegan@hawaii.rr.com
.