IT'S A HIT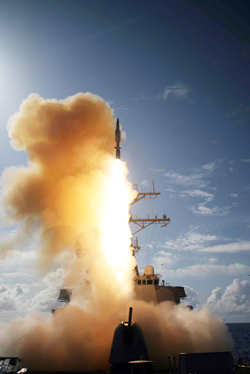 Anti-missile test off Kauai is a success
BARKING SANDS, Kauai » The USS Decatur, a Navy Aegis-class destroyer, was able to successfully track and destroy a midrange ballistic missile fired in a test from the Pacific Missile Range Facility on Kauai yesterday.
The Navy's Aegis ballistic missile defense program tested successfully for the ninth time in 12 attempts for the Aegis, and was successful for the 28th time out of 36 missile tests overall since 2001, the Missile Defense Agency said in a news release.
Once again, however, civilian boats in the range area delayed the test for a few hours yesterday. Boats in the range Thursday were unable to clear the area in time and the test was postponed for a day.
About 4:40 p.m. yesterday, a medium-range ballistic missile was launched from the Pacific Missile Range Facility. Four minutes later, the Decatur launched its own missile, detonating the target 100 miles above the Pacific and 250 miles northwest of Kauai just two minutes after the launch.
The target separated midflight, meaning the interceptor missile had to distinguish between the warhead and booster rocket for "the kill."
It's the first time a Navy Aegis-class destroyer shot down a target missile. Previous tests included Navy cruisers.
"It went exceedingly well," said Rear Adm. Alan B. Hicks, Aegis ballistic missile defense commander and program director.
More than 70 ground, sea and airborne sensors were used to gather information on the test, which will cost a total of about $50 million, he said.
Three other radar systems tracked the target missile: Aegis Cruiser USS Port Royal, the Spanish frigate Mendez Nunez, and the Army's mobile ballistic missile defense radar, part of its Terminal High Altitude Area Defense program.
This event marked the third time that an allied military unit participated in a U.S. Aegis missile test, with warships from Japan and the Netherlands participating in earlier tests.
The Aegis ballistic missile defense system refers to the technology the military has mounted on Navy ships to intercept midrange missiles.
Destroyers are an integral part of the sea-based Aegis ballistic missile defense system the military is building to protect the U.S. and allies against missiles from North Korea.
Currently, seven warships are equipped with the Aegis system and are able to shoot down ballistic missiles, with another nine warships able to track ballistic missiles. By 2009, Missile Defense Agency officials said, 18 ships are planned to have the ability to shoot down targets, with 16 of those in the Pacific Fleet.