| | |
| --- | --- |
| | Wood Craft |
---
Beachgoer sure man wearing dorky goggles was Ben Affleck
Star-bulletin staffer
Nancy Christenson
was standing in waist-deep water at Kailua Beach on Father's Day and a guy approached on her left. She looked at him and was stunned. "Oh my God, it's
Ben Affleck
," she said to herself. He looked at her and then put on his swim goggles. Seeing that, Nancy thought, "That couldn't be Ben Affleck. No way would he wear those dorky goggles."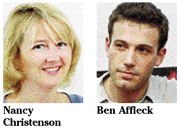 But Monday she checked Web sites and found that Affleck, his wife
Jennifer Garne
r, his buddy
Matt Damon
and Matt's wife,
Luciano Barroso
, and their respective kids all came to Hawaii for Father's Day. The sites showed photos of the group under trees that Nancy said appeared to be Kailua Beach Park ironwoods. Now she's sure the guy wearing the dorky goggles was Ben Affleck ...
Elizabeth Hartnett has joined G.M. Darren Yasui's team at Romano's Macaroni Grill as a singing greeter and dishes up arias for lunch guests. Elizabeth is a vet of Hawaii Opera Theatre and Diamond Head Theater shows. A graduate of Mililani High and DePauw University, she will study for her master's degree in opera this fall at the Manhattan School of Music. Macaroni's Assistant G.M. John Langan says Elizabeth sounds great ... UH Athletic Director Herman Frazier wasn't skirting the issues when he was coaxed into wearing a hula skirt and dancing June 15 during the Na Koa football benefit at John Hirokawa's magic show at the Beachcomber. UH players laughed loudest ...
Three kamaaina gentlemen die this month
It's a bad day when you see names of three good friends on the obituaries page. That's how it was for me June 3 when I spotted the names of
James "Dilly" Dilliner Jr.
, 76,
Shay Auerbach
, 77, and
Seth "Sai" Sakai
, 75. Condolences to their families. I went to schools or UH with all of them. Dilly died May 24. He served in the Army during the Korean and Vietnam wars and rose to master sergeant. Sai died May 10. He became a fine actor and appeared often on "Hawaii Five-0," "Magnum" and other shows. Shay, a Kamehameha Schools retiree, died May 28. He and his brothers,
Hank
and
Mark
, were my Piikoi Street "brothers" going back to the 1930s. Hank, Mark and I were spinning tops on the street when Pearl Harbor was attacked on Dec. 7, 1941 ...
Ben Wood
, who sold the Star-Bulletin in the streets of downtown Honolulu during World War II, writes of people, places and things in our Hawaii. E-mail him at
bwood@starbulletin.com