---
FAST FACTS HAWAII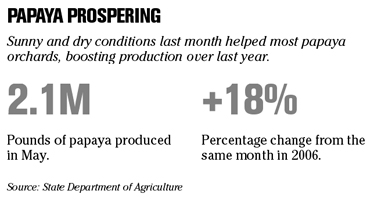 ---
HAWAII
Harassment rule vote delayed
A Hawaii Civil Rights Commission vote on whether or not to amend state rules governing employer liability for harassment based on sex and ethnicity for the last 25 years has been postponed to July 31.
Under the proposed changes, initiated by the Hawaii Employers Council, employers would no longer be held strictly liable when their supervisors harass an employee. Current rules do hold them liable, even if they were not aware of the harassment and had policies prohibiting it.
NATION
Macy's shares up on buyout rumor
NEW YORK » Shares of
Macy's Inc.
, the second-largest U.S. department-store chain, rose the most in more than a year and stock-option volume soared on speculation the company may be bought.
"There is talk of a private-equity buyout this weekend" at $52 a share by Kohlberg Kravis Roberts & Co. and Goldman Sachs Group Inc., said Marc Weinberger, head trader at W. Quillen Securities in New York. At that price, the company would be valued at $23.9 billion.
Macy's spokesman Jim Sluzewski said the company doesn't comment on market speculation. David Lilly, a spokesman for KKR, and Goldman Sachs spokesman Michael DuVally declined to comment.
The shares rose $2.56, or 6.6 percent, to $41.43 at 4:06 p.m. in New York Stock Exchange composite trading, the largest jump since November 2005.
Blackstone soars in trading debut
NEW YORK »
Blackstone Group
shares rose 13 percent in their stock market debut yesterday, as investors scrambled for a piece of the sixth-richest initial public offering in U.S. history.
Chief Executive Stephen Schwarzman now controls a firm whose market value stands at about $38 billion. His personal wealth also skyrocketed, with a 24 percent stake in Blackstone's management partnership worth around $8 billion, on top of the roughly $449 million he was expected to cash out in the IPO.
Exuberance about the booming private-equity industry overshadowed mounting criticism of the lavish lifestyles of top executives from politicians, labor unions and the media.
Delphi, union reach deal
DETROIT » Struggling auto parts maker
Delphi Corp.
reached a tentative wage-cutting agreement yesterday with its largest union in what may set the pattern for future pay in the U.S. automotive parts industry.
The deal, which still must be voted on by Delphi members of the United Auto Workers, was signed just before a 1 p.m. meeting between the UAW leadership and presidents of the union's locals.
Details of the agreement were not released, but Delphi said in a statement it's a "significant milestone" in the company's quest to emerge from Chapter 11 bankruptcy protection. The union also said details are being withheld until a ratification vote by members.
Disney to halt direct-to-DVD sequels
LOS ANGELES » In a major strategy shift, the
Walt Disney Co.
said it will stop making lucrative direct-to-DVD sequels of such classic animated films as "Cinderella," a move that reflects the growing influence of former Pixar Animation executives John Lasseter and Steve Jobs, who once called the films "embarrassing."
The change comes with a shake-up at the company's DisneyToon Studios, including the removal of longtime president Sharon Morrill, who will continue with the company in another capacity, Disney said yesterday.
DisneyToon Studios will become part of Walt Disney Feature Animation and report directly to Animation President Ed Catmull and Lasseter, who assumed roles there after Disney bought Pixar Animation Studio last year for $7.4 billion in stock.
---
BUSINESS PULSE