HiLIFE
Blossoming exotica
A troupe of burlesque dancers branches out of its usual Chinatown venue as the art form grows more popular
IN THE beginning, all Meghan Mayhem wanted to do was find people interested in the same thing she was. But it can be tough finding fans of burlesque dancing in Honolulu, so she turned to the Internet.
'Hula-A-Go-Go: Cabaret Exotica'
Featuring: Cherry Blossom Cabaret, the Hell Caminos, Black Square, Dr. Zalus and the Temporary Lovers

On stage: 9 p.m. Saturday

Place: Don Ho's Island Grill

Cover: $7
"Just on a whim, I posted an ad on Craigslist," she said. "I didn't expect anyone to respond."
Instead, she got a number of e-mails from women interested in an art form that some describe as little more than a glorified striptease. And now, almost a year after founding her own performance troupe, Cherry Blossom Cabaret, Mayhem has established a solid fan base in Chinatown, with plans to expand.
"People are beginning to know who we are," said Mayhem. "We have to be good now!"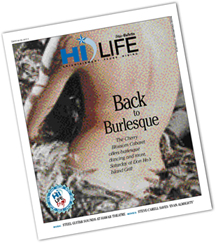 WHEN MAYHEM moved to Honolulu in 2004, she realized almost immediately that there wasn't as big a following for burlesque here as there was on the mainland.
"I used to go to shows all the time," she said. "I moved here and didn't see anything like that."
Burlesque isn't the raunchy stuff one might see at a gentleman's club, nor are burlesque dancers the same as the go-go dancers that have been popular at various nightclubs in recent years. It's more about being a tease, tickling the imagination and making the audience laugh out loud, all at the same time.
"There is thought involved," Mayhem said. "We're not just going up and shaking (it)."
After reaching out on Craigslist, her next move was to get burlesque into the local scene. So she approached the management at Ong King, which invited Cherry Blossom Cabaret to perform during its monthly "First Friday" event in July 2006.
From there, CBC has gone on to perform at various venues, including thirtyninehotel, NextDoor and the Mercury Bar. Membership has grown to about eight performers, with different styles of dance and performance art thrown into the mix.
"Some of us are really into the traditional-style burlesque ... we make it very comical and use props," said Mayhem. "Some of us are more technically trained dancers and do more dance routines.
"And then some people, because of their background, do more theater. Instead of trying to mold everyone ... we just follow their strengths."
BY FOCUSING on those strengths, Cherry Blossom Cabaret is evolving from its burlesque roots.
First came the name change, swapping "burlesque" for "cabaret" in order to better describe what audiences would see during their performances.
"The ... thing I hate about us performing in public is the stereotypes," Mayhem said. "We all have different styles ... if you look at burlesque troupes on the mainland, they have a certain look, and we're definitely not that. We're very diverse."
A guest appearance Friday at the "Rude Rocker Sound Clash" at Anna Bannana's is part of an effort to explore opportunities at venues outside Chinatown. And Saturday's "Hula-A-Go-Go" party at Don Ho's is the group's first try at headlining their own party.
"I think we're getting even more creative," Mayhem said. "And maybe that's where the respect comes from, because people can tell we take this seriously and put a lot of time into what we're doing."