| | |
| --- | --- |
| | Island Mele |
---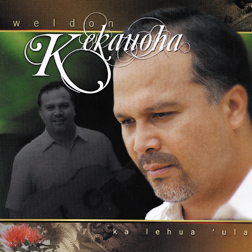 Ka Lehua 'Ula
Weldon Kekauoha
('Ohelo Records OR4355)
Weldon Kekauoha has enjoyed consistent success since his debut album, "Hawaiian Man," won him the Na Hoku Hanohano Award for Most Promising Artist in 2000. He became a member of the Mana'o Company, filling the spot held by Sean Na'auao in the original lineup, and contributed to the success of the group's comeback project, "Spread a Little Aloha," which won five Hokus in 2002.
Then, when the leader of Mana'o Company had to step away from performing, Kekauoha and the others regrouped as Weldon Kekauoha & Tapa Groove to make a powerful political statement with "Kanaka Maoli" in 2003.
With so much history behind him, it's no surprise that his latest project is well crafted and beautifully done.
He opens with the title song, a beautiful original written for his wife, and maintains a traditionalist nahenahe (sweet, melodious) approach thereafter. "Mele o Lana'i" demonstrates his falsetto capabilities, while "On the Beach at Waikiki" pays tribute to the hapa-haole music of a century ago.
It is almost a solo project. Kekauoha does all the vocal parts and plays ukulele, acoustic bass and guitar. Bobby Ingano (steel guitar) and Aaron Sala (piano) are on the short list of guests who join him on these beautiful recordings.
---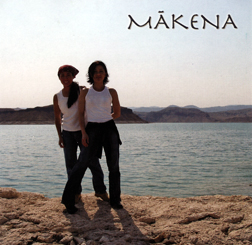 Makena
Makena
(Daniel Ho Creations DHC 80050)
The members of Daniel Ho's latest discovery are, like Ho himself, expatriate islanders. Siena Lee and Toast Tajiri left Hawaii several years ago in search of opportunities on the mainland. With Ho now on board as their producer and backing musician (requinto guitar on some tracks, acoustic bass guitar on others), the duo's decision to leave Hawaii has paid off. Imagine Keahiwai, but with a lower local pop quotient and stronger folk roots -- that's Makena.
The duo distinguishes itself with new songs and Hawaiian standards alike. "Waikiki Hula" and " 'Ulupalakua," re-arranged as acoustic folk-rock, provide a sense of their roots and showcase their appealing vocal harmonies. Several originals demonstrate their talent as songwriters.
And although they are essentially two voices (Tajiri also plays guitar), their arrangements are never thin or insipid. Persistent strummed chords add an expressive edge to "Good Enough," a song that expresses the uncertainties of romantic relationships. Their skill as song stylists is heard with their soft but passionate take on "I Won't Shed a Tear," a song contributed by Ho.
Concise liner notes complete this perfect debut album by sharing the stories behind the songs, and revealing why they included the coffee-house remakes of "It's Too Late" and "House at Pooh Corner."
---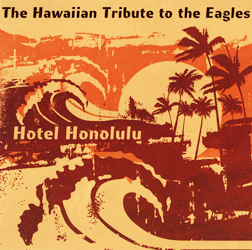 Hotel Honolulu: The Hawaiian Tribute to the Eagles
James "Kimo" West and Greg Leisz
(CMH Records CMH 9431)
What would it sound like if the Eagles' hits were recorded by an old-style Hawaiian instrumental group? Producer/arranger James "Kimo" West and steel guitarist Greg Leisz provide the answer with this collection of 11 Eagles classics played on traditional Hawaiian instruments. No one thus far has matched the Eagles' versions of those songs, but West has succeeded in putting them in a fresh and romantic context. It's beautiful background music at the least!
West opens with "Peaceful Easy Feeling" and continues at random through "Already Gone," "New Kid in Town" and "The Long Run," to name three. He interprets these well-known melodies with an assortment of guitars, ukulele, steel guitar, bass, vibes and Hawaiian percussion. The guitars, ukulele and steel guitar share the spotlight in defining the melodies (and subbing for the Eagles' vocalists). West's skill as an arranger in featuring first one instrument and then another make this potentially problematic theme album surprisingly interesting.
The interplay between the various instruments merits attention and makes this album more than a novelty. The occasional use of Hawaiian percussion (on "One of These Nights") and vibes adds texture.
John Berger
, who has covered the local entertainment scene since 1972, writes reviews of recordings produced by Hawaii artists. See the Star-Bulletin's Today section on Fridays for the latest reviews. Reach John Berger at
jberger@starbulletin.com
.