Tanoue partners with Chai's for model search
ONE LOCAL restaurant aims to attract the Beautiful People to Aloha Tower Marketplace, starting this weekend.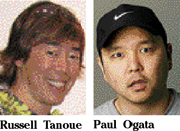 Photographer (and part-time promoter) Russell Tanoue is still best known for his work with the Ocean Club on its monthly "Piranha Room" party and for hosting his own extravagant birthday celebrations there. Since his departure last year, he's moved on to hosting a new party, "Beautiful," at different venues.
Now Tanoue is partnering with Chai's Island Bistro to present "Hot Summer Nights," a five-part party series that features a unique model search contest. Ladies are invited to wear their "most creative" bikini top for a chance to win a photo shoot with Tanoue or gift certificates to Chai's. Grand prize is a feature spread in Tanoue's column in MidWeek.
Doors open at 10 p.m. Saturday for the 21-and-over crowd, and the $10 VIP cover includes hosted pupus from the restaurant. DJ Epidemik will also be on hand to provide the night's soundtrack ...
ALSO ON SATURDAY, stand-up comedy comes to the Windward side via "Komedy in Kaneohe" at Bay View Golf Park.
Doors open at 6 p.m. for those who want to get some dinner and pregame a bit before the show starts at 8:15 p.m. Live entertainment will be provided by Aloha and Friends.
Kaneohe's own Tony Rivera will be joined by Stan Egi, Shawn Felipe and Elroy Ruiz; Rivera also promises special guest appearances throughout the evening.
Tickets for "Komedy in Kaneohe" are $20 at the door. Call 388-0477 or 927-2698 for more info ...
SPEAKING OF stand-up comics, former Oahu resident Paul Ogata will be back in August for a benefit performance.
Ogata will headline "Laughs for Lions," a benefit hosted by the Kamehameha Lions Club Foundation on Aug. 18 at Mamiya Theatre. Tickets are $40 general and $75 VIP, with sales limited to just 500 seats total.
From 6 to 7:45 p.m. that evening, Larry Thomas (also known as the Soup Nazi from "Seinfeld") will serve up soup and insults during a preshow mixer. Inside, Ogata will be joined by Abe and Franklin, Hawaii's version of Penn and Teller, Ching and Choy, and the Star-Bulletin's Charley Memminger.
Visit www.laughsforlions.com or call 528-1073 for more ...
FRIDAY'S PICKS: Sound|House and JenkoHawaii team up again to present the "Rude Rocker Sound Clash 2" at Anna Bannana's, a benefit for local band Black Square's upcoming mainland tour. They'll perform with Suspicious Minds, Max Murdoch and the Northern Soul Project, and the Hell Caminos starting at 9 p.m. ... Tokyo's DJ Nori is the featured guest at Lotus Soundbar, with an opening set by local boy DJ K-Ing ... Just 4 Kicks Entertainment presents "Kepa's Birthday Rager" at Boardriders Bar and Grill with entertainment by Stone and Go Jimmy Go ...
MORE SATURDAY PICKS: Drum-N-Bass fans won't want to miss the Hawaii debut of John B, with an opening set by DJ Cryptik and a homecoming set by DJ Synrgy ... Ka'ala Productions presents "The Hot Summer Jam" at Pipeline Cafe, with live performances by Chief Ragga and the International Players, Bamboo, Taz, Simplisity and Lalea. Eighteen-and-over are welcome ... And the Star-Bulletin's own Jamm Aquino and Rich Walker will play with their band, Lovechile, and Friends of Adam during "Blues, Brews and Beyond" at Sand Island R&B ...