---
NA HOKU HANA HOU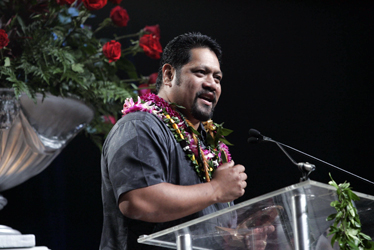 ---
Battle of Okinawa survivors to speak
Survivors of the Battle of Okinawa in 1945 will speak at a memorial service, 10 a.m. to noon tomorrow at Jikoen Hongwanji.
"Irei No Hi: Day to Console the Spirits," is marked in Okinawa as a day of remembrance for the quarter-million people of all nationalities lost in the battle. The event is brought to Hawaii by the Hawai'i Okinawa Alliance.
The nonreligious event will include talks by Yoshiko Oshiro Sickles, who was a child during the war; and Robert Kishaba, who was inducted into the Japanese military as a teen.
There also will be wartime video footage, historic displays and music.
Admission is free; doors open at 9:30 a.m. The hongwanji is at 1731 N. School St., the corner of School and Likelike Highway. Call 735-3499.
Teacher to cover SAT preparation
Steve McCrea, a Florida teacher, speaks at Serendipity Books on preparing students for the SATs, at 5 p.m. June 30.
His topics -- "In Praise of Small Schools" and "How to use iPods to Improve Schools and Prepare for the SAT" -- discuss a visual and active method for parents and students to prepare for testing.
On July 6 at 7 p.m., McCrea focuses on computers and foreign policy in a talk, "We Are Ambassadors, Too: How to use Skype to Build Bridges." He describes how his students use e-mail messages and YouTube to connect with students in other countries.
Call 949-4711.
Photo expert offers workshops at UH
Chris Orwig, faculty member at the Brooks Institute of Photography in Santa Barbara, Calif., will present a pair of workshops at the University of Hawaii next week.
The courses are meant for amateurs and professionals who know the basics but want to build on that knowledge.
For a view of Orwi's work, visit www.chrisorwig.com.
The classes:
Getting up to Speed in Photoshop CS3: 9 a.m. to 4 p.m. Friday. Covers new features in Photoshop, including color management, organizing images with Adobe Bridge and Lightroom, enhancing tone and color, burning and dodging, sharpening and retouching. Cost is $125.
Creating a Compelling Digital Portfolio: 9 a.m. to 4 p.m. June 30 to July 1. For artists, designers and photographers. Topics range from branding and marketing to story and visual communication, plus how to prepare artwork and use Flash to create an online or CD-based portfolio. Cost is $250.
Classes are at UH-Manoa Sakamaki Hall's MultiMedia Lab. Call 956-8400 or visit Pacific New Media at www.outreach.hawaii.edu/pnm.
COMING UP
'Eye of the Dolphin' will screen Sunday at UH-Manoa
The University of Hawaii's Outreach College has moved its Kids First! Film Festival to the Art Auditorium at UH-Manoa. The increased seating capacity will allow more people to participate and see the movies on a bigger screen.
This Sunday's selection, "Eye of the Dolphin," is about a 14-year-old girl who moves to the Bahamas with her dolphin researcher father. It's appropriate for children 10 and older. After the movie, attendees will receive a gift from National Geographic Kids.
All screenings are at 4 p.m., and will take place on four more Sundays -- July 1, 8, 15 and 22. Admission is free.
If you find yourself heading to the former location, not to worry! A trail of signs and balloons leads you to the new venue.
For more information about the 8-year-old national film festival, visit www.outreach.hawaii.edu/summer/features. or call 956-8246.
HOME & GARDEN
'Designer Series' features Norton
The second of monthly "Designer Series" workshops will be held 10 to 11 a.m. tomorrow and features interior designer Kathy Norton.
Norton will give updates on the progress of the winning home in the Hawaii Home & Remodeling 2007 Inspire Your Home Makeover Contest and will team with Benjamin Moore Paints to offer tips on selecting paint for your home.
The free event is being held at the Honolulu Design Center, 1250 Kapiolani Blvd.
Gardens hosts twilight concert
Plan to take in a night of swing music when the Thursday Night Band performs July 5 at Foster Botanical Gardens as part of its Twilight Summer Concert program.
Hours for the free event are 4:30 to 7:15 p.m., with the concert taking place from 5:45 to 6:30 p.m.
Foster Botanical Gardens is located at 180 N. Vineyard Blvd.
Call 522-7064.