---
FAST FACTS HAWAII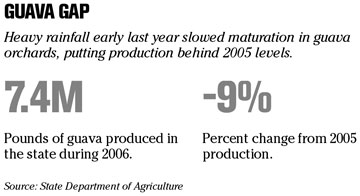 ---
Mortgage rates down slightly
WASHINGTON » Rates on 30-year mortgages, after rising for five straight weeks, edged down slightly this week as investors digested news that suggested the economic drag from housing could last longer than expected.
Mortgage giant Freddie Mac reported yesterday that 30-year, fixed-rate mortgages averaged 6.69 percent this week. That was down from 6.74 percent last week, when rates had jumped to the highest level in 11 months.
Rates on 15-year, fixed-rate mortgages, a popular choice for refinancing, fell to 6.37 percent, down from 6.43 percent last week. Five-year adjustable-rate mortgages averaged 6.31 percent, down from 6.37 percent while one-year adjustable mortgages fell to 5.66 percent, down from 5.75 percent last week.
Fuel-economy changes advance
WASHINGTON » Senators reached agreement yesterday on a proposal to increase automobile fuel economy standards to 35 miles per gallon, the first major boost demanded of automakers in nearly 20 years.
The agreement, would scale back a proposal already in the Senate's energy bill but still was considered strong enough to have wide support from environmentalists. The compromise aimed to head off attempts by senators sympathetic to the auto industry from pressing a less stringent proposal.
The measure now awaits action by the House, where the issue is not resolved. Representatives are expected to take it up next week. But attempts to combine the two bills and send legislation to President Bush probably won't be possible until later this year.
GE, Pearson give up on Dow Jones
NEW YORK »
General Electric Co.
said yesterday it has abandoned talks with Financial Times publisher
Pearson PLC
about a possible bid for
Dow Jones & Co.
, removing a potential rival to a $5 billion offer from Rupert Murdoch's
News Corp.
GE said it held "exploratory discussions" with London-based Pearson about combining GE's CNBC business news cable channel, Pearson's Financial Times newspaper and Dow Jones, which publishes the Wall Street Journal, Barron's and Dow Jones Newswires, but decided not to proceed.
Pearson's CEO Marjorie Scardino told FT staff in a note that given News Corp.'s interest in Dow Jones and Thomson Corp.'s pending deal to acquire Reuters Group PLC, Pearson had "kicked around some ideas" about combining CNBC, the FT and Dow Jones, but "didn't see that combination stacking up for our shareholders."
Toyota OKs non-Japanese director
TOKYO » Jim Press, the top man of Toyota's North American operations, got the go-ahead from shareholders today to become the first non-Japanese member of the automaker's board of directors.
Press, 60, a 37-year veteran at Toyota Motor Corp., was appointed to the board in April, the latest step in Toyota's efforts to bolster its international standing.
As head of Toyota Motor Sales USA, Press led Toyota's rapid sales climb from a 9.3-percent market share in the U.S. in 2000 to 13.1 percent in 2005.
Last year, Press become the first non-Japanese president of Toyota Motor North America Inc. He joined Toyota in 1970 after leaving Ford Motor Co.
---
BUSINESS PULSE