THIS CANOE'S FOR YOU, DAD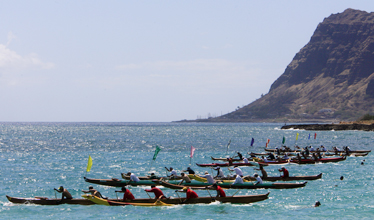 Lanikai stays ahead of Kailua
Lanikai Canoe Club has an even larger number of members than usual, and many of them are very good paddlers.
It's a tough combination to overcome for the other clubs in the Oahu Hawaiian Canoe Racing Association -- and, so far this season, it's proven to be unbeatable.
Three weeks into the summer sprint schedule, the Windward Oahu powerhouse and defending association champion won its third consecutive regatta yesterday by tallying 100 points to take the AAA (18-plus crews entered) title at Leeward Kai's Father's Day Regatta at Nanakuli Beach Park.
Lanikai won 12 races and earned points in 18 more (with at least a fourth-place result) in the 39-race event. Neighboring rival Kailua finished as the runner-up for the third straight week with 77 points, while Outrigger (57) and Hui Nalu (53) rounded out the top four spots in the division for the largest clubs.
"We have lots of good paddlers, and that's helped us score a lot of points this year," said Lanikai head coach David Smith, who had crews entered in 37 of the 39 races. "We try to spread (talent) around every week, trying to get crews qualified for the (Fourth of July) Macfarlane race and for (the state championship)."
A week ago Lanikai scored only a four-point victory over Kailua, but yesterday it came away with a convincing win that was much closer to the 30-point margin it won by in the season opener.
Jump-started by a somewhat surprising victory in the prestigious senior men's race, Kailua did manage to string together five victories from races 26 through 32 to help it close to within 10 points of Lanikai at 83-73. Prior to this stretch, Lanikai had a 69-46 advantage.
But Lanikai sealed the title with a victory in the 36th event -- men's open 4 -- making the score 90-77. Lanikai also won races 37 and 38 -- mixed 55 and mixed 40 -- while Kailua failed to place or enter any of the last three races for the final score.
"We saw (Kailua) make a nice run there. That had us concerned, for sure," Smith said.
Not recognized as a traditional strength for Kailua, the club's men have been a particular bright spot despite the club's overall bridesmaid run this year.
Kailua won the 1 1/2-mile senior men's race in 11 minutes and 18.45 seconds, nearly 10 seconds better than second-place Hui Lanakila (11:27.58). The winner the first two weeks this year and the dominant force statewide in this race for over a decade, Lanikai finished well back in sixth place at 11:45.80.
According to Kailua head coach Kawai Mahoe, Kailua had not won this blue-ribbon race in four years. But it was not completely shocking, considering the club finished in second place, only a second behind Lanikai's winning crew, the previous week.
Kailua also had a win in the sophomore men's race among its other victories yesterday.
"I'm stoked. It's a welcome surprise," said Mahoe of his men. "Hopefully we can get better and better. We don't necessarily have the top-notch guys; we just have a lot of bodies, and it's much easier to build a program with a lot of bodies around you. The happy addition of some new guys from other clubs has definitely helped out."
Added one of those new senior crewmembers, Chris Tseu, who moved before this year from Hui Lanakila, "I didn't think (winning) would happen this fast. But I knew we had a lot of talented guys."
Benjamin Lindsey, Chad Akana, Patrick Von, Donovan Leandro and Cana Day also paddled on Kailua's winning senior men's crew.
In the 1 1/2-mile senior women's race, Hui Lanakila came away with its third straight win this year at 13:01.20. Outrigger (13:10.93) finished well behind as the runner-up.
Hui Lanakila was able to combine that win with ones in the freshmen, sophomore, junior and open 4 women's races, and also the girls 14s, to help the club win the AA (nine to 17 crews) title with 43 points.
"We're still humble, still working hard and trying to fine tune," said Jaimie Kinard, who paddled on the club's sophomore and senior women's crews. "Each regatta is training, in a sense."
Leeward Kai finished second in AA with 26 points, while Keola O Ke Kai took the A (eight or less crews) division with 11.
Considering that Leeward Kai was continuing its annual Father's Day tradition of hosting the regatta, and that it finally was able to dedicate its long-awaited canoe halau on site with Mayor Mufi Hannemann in the morning, spirits remained high within the club.
"This is the best thing I can do because it brings all our families together," said Leeward Kai president Edith K. Van Gieson.
The fourth regatta of the OHCRA season will be Sunday at Waimanalo Beach.