Kilauea rumbles with 260 quakes
The event's duration has scientists unsure what will be left when the shaking stops
STORY SUMMARY »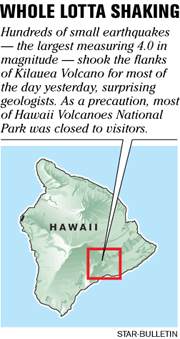 In what geologists call a rare occurrence, a swarm of more than 260 small earthquakes rattled the Upper East Rift Zone of Kilauea Volcano beginning at 2:15 a.m. yesterday, shaking nearby residents throughout the day.
Geologists said a buildup of magma below ground is creating the quakes, reducing the lava flow at the Pu'u O'o vent, but the long-term significance, if any, remained unclear. One possibility was the formation of new eruption vents at the volcano, which has been spewing lava continuously since 1983.
Rangers closed down most of Hawaii Volcanoes National Park yesterday and evacuated 11 campers as a precaution. The earthquakes were small, with the biggest measuring at 4.0, not enough to trigger a tsunami.
"We're on alert," said ranger Mardie Lane. "This is definitely something new and intriguing. We're all just watching."
---
FULL STORY »
Geologists from the Hawaiian Volcano Observatory are baffled by a swarm of more than 260 small earthquakes that shook the upper East Rift Zone of Kilauea over the course of several hours yesterday.
This is only the third time in the last decade that such unusual activity has affected Kilauea, which has been erupting for 24 years. In the past, there have been similar swarms of little earthquakes but none that lasted so long.
"That's the $64,000 question," said observatory geologist Mike Poland. "That's not unheard of, but it is a little unusual. I don't think we have a good feel at all for why it has lasted as long as it has, and that maybe clouds the potential outcomes."
Out of the conceivable outcomes -- including new eruption sites -- Poland said the most likely would be that nothing will happen and the magma would stay below ground.
But scientists could not rule out larger, more destructive quakes or a sudden cessation of volcanic activity.
"No matter what the outcome of (yesterday's) events, this is a reminder that we always need to be ready," said Hawaii Volcanoes National Park ranger Mardie Lane. "Kilauea is a very young volcano with a lot of growing up to be done. And it always has the last say."
Beginning at 2:15 a.m. yesterday, small, shallow earthquakes occurred after magma built up beneath the upper East Rift Zone. Recently, magma has been rising and filling an area underneath the summit of Kilauea.
But yesterday, the summit was slowly deflating "like a balloon," Poland said, with less lava flowing to the Pu'u O'o vent.
Similar situations occurred in 1997, where new eruption sites sprang up, and in 1999, where nothing happened, he said.
"It is possible that (magma) will accumulate like it did in 1997, where it actually leads to a new eruption site," Poland said. "And if it were to happen now, it would be somewhere up-rift."
But at this point, Poland said, most of the earthquakes have stayed about 1.5 to 3 kilometers below the surface, and geologists don't think it will rise towards the surface.
At one point yesterday morning, one earthquake was occurring every minute. Most of the earthquakes remained under a magnitude of 3. The biggest earthquake measured at 4.0.
That was enough to cause a rumble for nearby residents but still too small to set off a tsunami, said Pacific Tsunami Warning Center Geophysicist Barry Hirshorn.
"It just raises our eyebrows," Hirshorn said yesterday afternoon. "At this time, there's no danger of a tsunami. But we advise anyone near the water to please stay away and to avoid the (lava) benches because they're very fragile. Any significant shake can knock them off."
Rangers shut down most of Hawaii Volcanoes National Park, including a part of Crater Rim Drive and Chain of Craters Road, which had a fresh crack that opened two centimeters because of the earthquakes.
Rangers also evacuated 11 campers and the park's livestock animals as a precaution.
Geologists will continue monitoring the seismic activity and are also taking this opportunity to learn more about Kilauea.
"It happened in the past and it'll happen again the future," Poland said. "Frankly, it's a scientifically very interesting problem and an exciting time."
---
Star-Bulletin Rod Thompson contributed to this report.