---
FAST FACTS HAWAII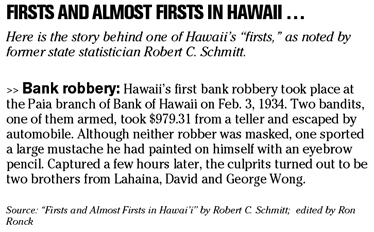 ---
NATION
'Phantom load' costing millions
Turn off all the lights in your house at night and wander around. You'll be amazed at how many devices continue to glow.
Utility executives call it phantom load, the electricity that flows to devices that are turned off but still drawing power. A microwave with a clock that's on 24 hours a day. A TV that's not on but continuously consuming electricity so it's ready when you hit the remote's "on" button. Wireless phone chargers that keep drawing power even when no phone is plugged in.
Individually, none of these turned-off devices use much power. But together they represent an estimated 2 to 8 percent of a home's electricity usage. For someone in the Boston area with a 6 percent phantom load, that's more than $5 a month, or $60 a year.
Across Massachusetts, according to NStar Corp., a 6 percent phantom load would have cost residential customers $200 million last year.
Are you the 301,191,955th richest?
By the time payday rolls around, many of us feel dirt-poor. But, as Einstein discerned, everything is relative.
If you took in $33,666 last year, you are richer than 95 percent of the world's population. You would be the 301,191,955th richest person on Earth, to be precise.
So says Global Rich List (www.globalrichlist.com), a wealth calculator created by London creative agency Poke. Unfortunately, the calculator doesn't work above $200,000 and works erratically with incomes approaching $100 or less. That means the Web site can't calculate the relative incomes of famous rich folks or cast light on the ranking of high-paid CEOs.
But then, we already know they're rich.
What's surprising are all the numbers between $100 and $200,000. For instance, even a U.S. resident living at the federal poverty threshold of $10,210 is wealthier than more than 5 billion other people on the planet. The glass-half-empty view is that an American at the poverty level must pass 796,213,819 other people to reach the top.
And Bill Gates would have to pass 5,999,999,999 people to reach the bottom.
How to survive business meals
Most of us know the importance of manners when we're on a date -- whine about the food or show up late and you'll spend the next Saturday night alone.
The same rules often apply to business, says Judith Bowman, author of "Don't Take the Last Donut: New Rules of Business Etiquette." Whether you're discussing growth charts over scrambled eggs or selling your research experience between bites of salmon, follow a few simple rules to maximize mealtime opportunity.
» Order food that is easy to eat. Nothing leaves a bad impression like gnawing on a rib bone or fumbling with a lobster claw.
» If your food isn't prepared to your taste, eat it anyway, or at least nibble around the part you don't like, Bowman said. A business meeting over a meal is about developing a relationship, not how your steak is cooked.
» Don't order plain tap water if your company orders an alcoholic drink but you'd rather refrain. Try sparkling water or a beverage with a splash of juice.
» Be prepared. As the host, some extra time allows you to select a table, instruct the wait staff about where to seat your guest, and other nuances than can make or break a meeting, Bowman said.
Many workers feel underutilized
Nearly three-quarters of employees think they could outperform their boss if given the chance, and most of them would jump at the opportunity, according to a recently released survey. A full 65 percent of workers said they aspire to their boss' position.
At the same time, 42 percent rated their boss' performance as excellent or above average, and 66 percent said they trust their supervisor.
It's a sign that while many employees respect their boss, they feel underutilized at work, said Bob Damon of the executive recruiting firm Korn/Ferry International, which conducted the nonscientific quiz.
Companies should single out workers with high potential early on and recognize them for their talents, or risk promising employees leaving or languishing in the lower ranks, Damon said.
"Make sure that you customize a professional development plan for each one of these people," he said.
The survey is based on a global poll of executives registered with Korn/Ferry's online executive center. An average 750 respondents answered each question.
---
BUSINESS PULSE