2007 GIRLS FABULOUS 15
Enter the Dragon
There were long, sweltering summer days in Honokaa, fit for a trip to the beach.
Instead, Keisha Kanekoa took her basketball and sneakers to the gym. Day after day. One drill after another. One shot after another. One move after another.
The dedication paid off. The Honokaa senior was voted to the top honor as the Star-Bulletin Girls Basketball Player of the Year by a panel of coaches and media.
For all of her superlative skills, the intangibles of Kanekoa's basketball soul are what coaches statewide talk about most.
"She's one of a kind. All heart," Hilo coach Ferdi Masulit said. "A lot of heart, that girl."
Kanekoa was especially explosive in crucial games. She erupted for 35 points in a win over Hilo that clinched a state berth.
On the biggest stage of Kanekoa's career -- the state tournament at Stan Sheriff Center -- she was magical. Kanekoa tallied 12 rebounds and five assists as her team beat Moanalua in the opening round. The next night, Kanekoa poured in 31 points as Honokaa shocked No. 1 seed Roosevelt. In the semifinals, she scored 32 of her team's 41 points in a semifinal loss to Punahou. She finished her career with a 26-point effort, including a last-second running bank shot, to edge Iolani.
For the tourney, Kanekoa averaged 24 points, 9.5 rebounds, four assists and three steals per game.
The panel of voters named Kanekoa as the No. 1 player on 14 of 16 ballots.
"For any coach, it's a nightmare to play against her," Punahou coach Mike Taylor said. "She's physically stronger than everybody, and her basketball IQ is high."
Konawaena coach Bobbie Awa saw plenty of Kanekoa over the past four years. "She has a lot of heart. She does whatever it takes for her team to win," Awa said.
Kanekoa's effect was always positive. "Everybody else on the team saw what she did and they worked hard also," Honokaa coach Shawna Lau Kong said. "I don't think you can replace a player like her."
Kanekoa's grit and magic will return to Stan Sheriff Center next season with the University of Hawaii Rainbow Wahine.
» No. 2, Jazzmin Awa-Williams, Konawaena: The savvy senior finished second in the voting after leading Konawaena to its second state championship in four years. The senior forward averaged 18 points, nine rebounds, six assists and three steals per game.
"She helped with the motivation of her teammates this year," Awa said. "They got more confidence. She was a great team leader this year. She really worked with them and talked with them on the court. That was really key for our girls this year."
» No. 3, Iwalani Rodrigues, Roosevelt: The lanky 5-foot-9 junior averaged 19 points, 14 rebounds, three assists, four steals and 3.6 blocks per game. She also shot 59 percent from the field and 86 percent from the line.
» No. 4, Jamie Smith, Iolani: The 6-foot junior averaged 16.5 points, 11.2 rebounds, two steals and two blocks per game. She shot 54 percent from the field and 74 percent from the line.
» No. 5, Vicky Tagalicod, Hilo: The sophomore averaged 18 points, nine boards, six assists and three blocks per game.
» No. 6, Analee Viena-Lota, Kamehameha: She averaged 14 points per game for a young Warrior squad.
» No. 7, Nicole Fu, Maryknoll: Despite being marked by defenses, Fu led the ILH in scoring with 16 points per game.
» No. 8, Courtney Gaddis, Kalani: She paced the Lady Falcons with 13.3 points, nine rebounds and three blocks per game.
» No. 9, Ta Nitra Byrd, Radford: The freshman lifted her team with 15.5 points, 12 rebounds and 3.5 blocks per game.
» No. 10, Mana Hopkins, Konawaena: She had 14 points, eight rebounds and 2.5 steals per game, and stepped up with 26 points and nine boards in the state final.
» No. 11. Shanadee Canon, Kalaheo: Led the OIA Red East with 15 points per game.
» No. 12, Liana Hanato-Smith, Konawaena: She exploded in the state tourney, and especially in the state final when she had four treys and 14 points.
» No. 13, Janelle Nomura, Punahou: Peaked in the state tourney with 14 points and three steals per game.
» No. 14, Chelsea Deptula, Punahou: Sparked the Buffanblu press with 4.2 steals and seven rebounds per game.
» No. 15, Chelsie Sato, McKinley: Scored 16 points per game and amassed 32 treys.
Coach of the Year
For a second time in the past four years, Bobbie Awa emerged as the general of a state championship team.
Once again, Awa was selected Star-Bulletin Coach of the Year. Konawaena went 25-1, winning all 14 BIIF games before sweeping through the state tourney.
Bobbie Awa
Konawaena coach
"She always gets the kids to peak at the right time. ... They play with class and play really hard, and that's a credit to Bobbie and her husband (Donald). You know they're gonna bring it for 32 minutes. You have to be ready for everything."
-- Mike Taylor, Punahou coach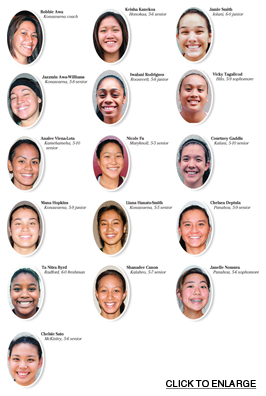 Keisha Kanekoa
Honokaa, 5-6 senior
"She plays 30, 32 minutes at such a high level of energy, that sets her apart, and she's being hounded the whole time. To repeat that night in and night out, that's pretty tough."
-- Bobby Keanini, Roosevelt coach
Jazzmin Awa-Williams
Konawaena, 5-8 senior
"A strong, athletic player. She really understands the game well. She's a competitor with a capital 'C'."
-- Mike Taylor, Punahou coach
Iwalani Rodrigues
Roosevelt, 5-8 junior
"She has the ability to take over games at any position on the court effectively. Her size and athletic ability can allow her to play the 1 to the 5."
-- Shawna Lau Kong, Honokaa coach
Jamie Smith
Iolani, 6-0 junior
"Oh my god, Jamie Smith is dominant. I would love to have a player like her. She's big. She's their go-to player, yet she does all the tough work down low. I think she has a nice future ahead of her."
-- Bobbie Awa, Konawaena coach
Vicky Tagalicod
Hilo, 5-9 sophomore
"She's really fundamentally sound on both ends. She stays low, always in position and rebounds. Offensively, her footwork is pretty good. She's really unselfish."
-- Mike Taylor, Punahou coach
Analee Viena-Lota
Kamehameha, 5-10 senior
"Offensive-wise, within Kamehameha's offense, she did a lot. She didn't try to force a lot, and she meant a lot to them. Defensively, she's a real smart player. She knows the game well and is always one step ahead."
-- Glenn Takara, Iolani coach
Nicole Fu
Maryknoll, 5-5 senior
"She has so much offensive firepower. Great shooter, can shoot off the dribble and makes everyone around her better. She's real, real quick. We had a hard time defending her. Just a pure scorer."
-- Byron Cheng, Mid-Pacific coach
Courtney Gaddis
Kalani, 5-10 senior
"Courtney's got great vision on the court, handles the ball very well going right or left, finds ways to get to the free-throw line. She shoots a high percentage and plays smart."
-- Mike Taylor, Punahou coach
Ta Nitra Byrd
Radford, 6-0 freshman
"She's gonna be one of those Shaq-like players. She can handle the ball, bring the ball up, and passes like a point guard. It's amazing that someone that young and tall can pass like that."
-- Shawna Lau Kong, Honokaa coach
Mana Hopkins
Konawaena, 5-9 junior
"What really stood out is her confidence and belief that she'd succeed on the highest level. She didn't come to be just a part of it. She came to be a superstar and make a legitimate difference."
-- Mike Taylor, Punahou coach
Shanadee Canon
Kalaheo, 5-7 senior
"She plays with so much enthusiasm and she's so smart. The role she had to play this year, she plays the whole game. She's a class act, a great kid, and it shows in how she plays. She meant a lot to the team."
-- David Lane, Radford coach
Liana Hanato-Smith
Konawaena, 5-5 senior
"Some games it's her ballhandling and setting up her teammates, or she'll shoot daggers from the 3-point line. She plays really aggressive and physical defense. That's fun to watch from my standpoint."
-- Mike Taylor, Punahou coach
Janelle Nomura
Punahou, 5-6 sophomore
"Nomura's got good potential. She gives a lot of effort and takes care of the ball. Everybody wants players who work every minute they're on the court."
-- Bobbie Awa, Konawaena coach
Chelsea Deptula
Punahou, 5-9 senior
"That girl plays with a lot of heart. She's got a good eye for the ball. She snatched two in the air from my girls, but she did it throughout the tournament. She's a force."
-- Bobbie Awa, Konawaena coach
Chelsie Sato
McKinley, 5-6 senior
"She launches from anywhere on the floor. We can be in her face or play off of her and it doesn't matter. The girl has no limit on her range. She's fearless in the way she shoots."
-- Nathan Macadangdang, Campbell coach