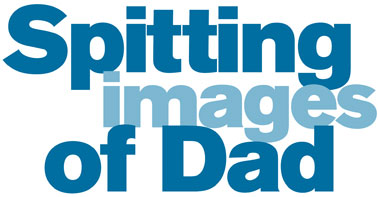 Father's Day comes early as an annual event bonds dads and their kids
Motorcycle rider and tattoo enthusiast Steven Miyamoto, 28, said he wasn't the kind of guy who wanted kids. But when his son was born two years ago, he knew it was one of the best things that ever happened to him.
Dressed in a white tank top, blue jeans and motorcycle boots -- complete with temporary tribal tattoos on his arms and chest -- 23-month-old Drake Miyamoto looked like his father's "Mini-Me" yesterday at the Father-Child Look-Alike Contest at Windward Mall.
With cheers of support from family members, the duo placed fourth out of more than 50 contestants at the ninth annual Celebrate Father's Day event, presented by the Hawaii Coalition for Dads.
The judges, television personalities Ron Mizutani and Justin Fujioka, along with Chet Adessa, co-chairman of the Hawaii Coalition for Dads, judged the father-child duos on resemblance, clothing and interaction.
Maili residents Charldon Leleo Sr., 34, and Charldon Leleo Jr., 10, took first place and won a new 27-inch flat-screen television.
"We'll probably put the TV in my son's room," said Charldon Sr., who also added that he and his son will use it to play their Xbox football video game.
The two dressed the same with a blue Sean John shirt, jean shorts, a black hat and chains around their necks.
Approximately 10 father-daughter duos participated, but the 12 finalists were all father-son teams.
The event was filled with funny and touching moments. One finalist father shared that his most special time with his son was when he saw him for the first time after returning home from Iraq.
Ewa Beach residents William Batalon, 34, and son Dakota, 5, took third place dressed as Indianapolis Colts football players, equipped with footballs, wristbands and eye black.
"It's our favorite team," said William Batalon.
"I like reading with my dad," Dakota Batalon said. "I like watching TV and doing tae kwon do with (my dad)."
The top five winning teams received koa bowls and other prizes. Sixth- through 12th-place winners took home T-shirts.
Kuuipo Kumukahi and Maunalua provided the live entertainment. There were also balloon artists, a hand-painting and picture-taking booth, and informational booths.
The Hawaii Coalition for Dads, which started in 1998 under the umbrella of Parents And Children Together, is a group of individuals and organizations that share information about services to fathers and promote involved, nurturing, responsible fatherhood.
"Every day I spend with my son is a special day," Charldon Leleo Sr. said.