| | |
| --- | --- |
| | Newswatch |
---
GOVERNOR ON BOARD: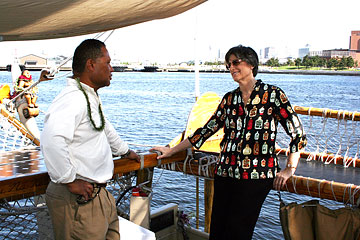 FAA to probe small-plane crash
The Federal Aviation Administration will be investigating Friday evening's plane crash that left two visitors unscathed and a $30,000 plane at the bottom of the ocean.
Investigators will interview the pilot, witnesses, aircraft control tapes and the plane's owner, George's Aviation Services, said Ian Gregor, an FAA spokesman in California.
A Cessna 150J apparently ran out of fuel off the waters of Koko Head at about 5:52 p.m. Friday. The couple renting the plane were rescued and did not require medical attention.
The plane sank 1,000 feet into the ocean, and Gregor said it is up to the plane's insurance company to determine whether the plane will be recovered, since no fatality was involved.
Grants for Hawaiians' education
Five Hawaii colleges and universities received $2.6 million from the U.S. Department of Education to improve services to native Hawaiian students, the education department said in a news release.
The grants to Chaminade University ($750,000), Kapiolani Community College ($723,591), Honolulu Community College ($690,670), Leeward Community College ($265,566) and the University of Hawaii at Manoa ($178,869), will be used to improve educational opportunities for native Hawaiian students.
"The grants will not only help the schools plan and carry out activities that will help students enroll and stay in school, but will help them to raise their academic achievements," Margaret Spellings, secretary of education, said in the written news release.
Part of the money will be used at Chaminade to renovate two laboratories used primarily for biology and chemistry classes. Honolulu Community College will create a music production studio, and the University of Hawaii at Manoa will provide a Summer Retention Program with academic tutorial services.
To be eligible for the grants, the schools had to have an enrollment of undergraduate students that is at least 10 percent native Hawaiian.
Chinese family violence targeted
The Na Loio Immigrant Rights and Public Interest Legal Center is starting a project targeting family violence in the Chinese immigrant population.
The aim is to raise awareness about domestic violence and services available in the immigrant community.
The group is holding a planning conference in July to introduce the project and examine barriers immigrants face in seeking domestic violence services.
For more information, call Bonny Ngai at 847-8828.
Salvation Army holds ranch camp
The Salvation Army is sponsoring an "Avalanche Ranch"-themed summer day camp at Leeward Corps Community Center in Aiea for children in kindergarten through 6th grade.
The day camp will run from June 25 to July 29, Monday to Friday, from 8 a.m. to 2 p.m.
The children's day camp will include activities from the Wild West such as horseplay games, cowpoke crafts, a sing and play stampede and a Wild West theater. There will also be beach activities and weekly excursions including a camping trip on the North Shore.
Registration for the five-week summer day camp costs $450. For registration and more information, call the Salvation Army Leeward Corps Community Center at 808-487-1636.
| | |
| --- | --- |
| | Police, Fire, Courts |
---
NEIGHBOR ISLANDS
Single-car crash kills man, 70
A man in his 70s died yesterday in a single-car accident in the Hamakua district on the Big Island, police said.
The man's car ran off the road at 9:03 a.m. near the intersection of Kapuna Road and Old Mamalahoa Highway in Honokaa, police said.
7 plucked off capsized canoe
Gusty 30 to 35 mph winds overturned a canoe with three adults and four juveniles on board in waters off Kahakuloa in West Maui Friday morning.
The seven people were rescued after Maui County lifeguards on personal watercraft helped steady the canoe while Maui Fire Department's Air One helicopter picked them up.
No one was injured, said Battalion Chief Frank Tam. The fire-rescue captain said the canoe apparently capsized in an area where several currents result in choppy water conditions.
Firefighters track wildfire hot spots
Big Island firefighters continued to monitor a Waimea brush fire that burned 560 acres in two days.
Firefighters had the blaze under control Friday, but continued dowsing hot spots in the daylight hours yesterday. Three fire personnel were scheduled last night to monitor the perimeter of the fire.
The blaze started on Thursday at 1:01 p.m. near Highway 190, burning open grassland owned by Parker Ranch and the federal government, fire officials said. No one had been injured or evacuated during the fire, and investigators were still looking into the cause of the fire.
Blaze destroys wooden shed
Big Island firefighters put out a blaze that engulfed an abandoned wooden shed Friday night.
At about 8:30 p.m., firefighters responded to a fire reported on Luau Drive about 300 feet north of Leilani Parkway. Two engines responded and extinguished the fire by 9:15.
LEEWARD OAHU
License plate on seat a clue
A 20-year-old man was arrested Friday for suspected auto theft after he was found with a license plate in the back seat.
At about 11:17 a.m., a Waianae officer patrolling saw a vehicle traveling with no rear license plate. After pulling over the driver and speaking to him, the officer notice the plate in the back seat of the car. A check revealed the car was reported stolen Wednesday. The driver was arrested on suspicion of auto theft.