| | |
| --- | --- |
| | Wood Craft |
---
Mike Gallagher finds a pearl in his oyster at Mavro's Cassis
Mike
and
Mamie Lawrence Gallagher
were having an early Father's Day dinner with Mamie's dad,
David Lawrence
, of Kula, Maui, at Cassis by Chef Mavro Wednesday, sharing a plate of Pacific Oysters on the half shell to start.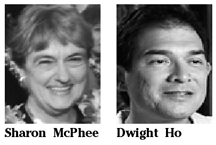 Mike bit into something hard and said, "I think there's a pearl in my oyster!" The others thought he was joking until he showed them "a white pearl the size of an aspirin." Mike added the pearl was bizarre surprise but "dinner was great" ...
Sharon McPhee
gave singer-dancer-actress
Sherry Shaoling
a big hug at the recent Waikiki Parc reception for Nobu after learning Sherry was a member of Punahou's "13 Plus Club." Members of "13 Plus" went to Punahou from kindergarten through grade 12. Sharon is the widow of
Rod McPhee
, who was Punahou's president for 26 years while Sherry, then
Sherry Chock
, was a student. She sings with
Don Tiki
at Hilton's Tapa Bar Thursday nights. Sharon was introducing people to Honolulu Symphony Board Chair
Jeffery Minter
at Nobu's ...
Jim Burns and Emme Tomimbang were also at the Nobu soiree. "Emme in the New Las Vegas!" will air June 28 at 9 p.m. on KHON and repeat June 30 at 3 p.m. Don Ho's son, Dwight, is in the special and will talk of the family's "surprise at the overwhelming outpouring of love and support from the people of Hawaii" over his dad's death. He will also talk about one of his dad's loves, the Aha Punana Leo Hawaiian Language Immersion Program ...
Halekulani holding romantic dinner-dance
The Halekulani is holding a dinner-dance as part of the resort's "Romance Remembered" 2007 theme Saturday June 30 in Orchids at 7:30 p.m. A four-course dinner will be prepared by chef
Darryl Fujita
, with a glass of champagne to start things off. Music will be by a seven-piece band with singer
Sonya Mendez
. Tickets for "Midnight Moon" are $190 a couple or $95 a person ...
Mihana Souza's
concerts June 22-23 at the rRed Elephant are sold out so she is adding a third on Sunday June 24 at 2 p.m. ... Australia's wine and produce will be featured June 23 at 5:30 p.m. at Aloha Tower. Chefs
Phillipe Padovani, Donato Loperfido
and
Goren Streng
will team up with chefs
Paul Wilson, Ian Curley
and
Harry Lalai
from Australia. Call 526-2242 for $100 tickets ...
Ben Wood
, who sold the Star-Bulletin in the streets of downtown Honolulu during World War II, writes of people, places and things in our Hawaii. E-mail him at
bwood@starbulletin.com