---
FAST FACTS HAWAII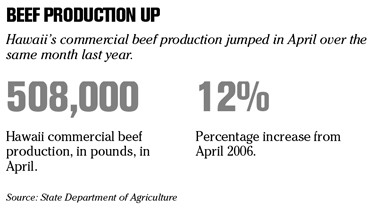 ---
NATION
Ronco files for bankruptcy
Woodland Hills, Calif. »
Ronco Corp.
, maker of the Veg-O-Matic vegetable slicer and the Pocket Fisherman, filed for bankruptcy two years after founder and television pitchman Ron Popeil sold the iconic company for $56 million.
Ronco, which marketed products as perfect for "grads and dads," sought protection from creditors owed more than $32.7 million. It listed $13.9 million in assets Thursday in U.S. Bankruptcy Court in Woodland Hills, Calif.
Airline payments and refunds due
LOS ANGELES »
US Airways Group Inc.
,
Southwest Airlines Co.
and other carriers at Los Angeles International Airport must pay some fees they have been contesting and will get refunds for others, a U.S. agency said.
Transportation Secretary Mary Peters yesterday upheld maintenance and operation fees adopted in December at the airport. Seven U.S. carriers and 21 foreign airlines filed complaints with the Transportation Department that the fees were discriminatory and excessive.
The department will decide the amount of the carriers' refunds in a month, she said.
Judge can't correct $100M error
WASHINGTON » It was a $100 million mistake, and a federal judge said yesterday he doesn't have the power to fix it.
The U.S. Justice Department goofed last year and cited the wrong law in a binding plea agreement with telecommunication entrepreneur Walter Anderson, the largest tax scofflaw in U.S. history. That mistake made it impossible for the government to recover between $100 million and $175 million, U.S. District Judge Paul L. Friedman said in March.
Prosecutors urged him to reconsider but Friedman reluctantly said yesterday that his hands were tied.
WORLD
Swiss open longest land tunnel
IN THE LOETSCHBERG BASE TUNNEL, Switzerland » With a ceremony that went off like a classic Swiss timepiece, officials yesterday inaugurated the world's longest overland tunnel, a 34.6-kilometer-long (21-mile-long) rail link under the Alps meant to ease highway traffic jams in the mountainous country.
The tunnel, which took eight years to build and cost 4.3 billion Swiss francs ($3.5 billion), will trim the time trains need to cross between Germany and Italy from 3 1/2 hours to just under two.
Coin shortage hits Calcutta, India
CALCUTTA, India » A mysterious coin shortage gripping the eastern Indian city of Calcutta has shopkeepers begging for change from beggars and buying coins at prices above their face value.
No one knows exactly why there is no change in Calcutta or why the dearth has affected only this city of 14 million, but it has spurred the Reserve Bank of India to emergency measures, distributing millions of coins to try to satisfy the demand.
Since the coin shortage became acute at the beginning of June, the bank has distributed nearly 5 million rupees ($121,950) worth of coins, including one million on Thursday alone, said Nilanjan Saha, the bank's treasurer in the city.
Cosco plans stock offering
SHANGHAI, China » China's state-owned shipper
Cosco Holdings Co. Ltd.
said yesterday it plans to raise up to about $2 billion in a stock sale on the Shanghai exchange.
It plans to use some of the proceeds to buy new container ships and build waterfront landings.
The company plans to offer 1.784 billion yuan-denominated A shares at an indicative price of 7.60 to 8.48 yuan each, it said in a statement. At the high end, that would raise a total of 15.13 billion Chinese yuan.
The Cosco Holdings A shares are scheduled to make their trading debut on the Shanghai Stock Exchange of June 26, lead underwriter China International Capital Corp. said.
---
BUSINESS PULSE