Band Camp 5
Matisyahu's reggae rocks with a taste of the Middle East
NOW IN its fifth year, BAMP Project's "Band Camp" has established itself as the primary annual showcase for alternative bands on Oahu.
'Band Camp 5'
With Matisyahu, Yellowcard, Plain White T's and Madina Lake

In concert: 4 p.m. Sunday

Place: Waikiki Shell

Tickets: $38 to $48

Call: (877) 750-4400
This year, however, the concert makes a crossover of sorts with the inclusion of Jewish reggae artist Matisyahu. The 27-year-old started his career with "Shake off the Dust ... Arise" in 2004, but it wasn't until the live album "Live at Stubb's" dropped in 2005 that audiences around the country began to take notice.
The release of "Youth" last year (which included the hit single, "King Without a Crown") introduced Matisyahu to even more fans and resulted in a steady string of tour dates. After his Hawaii concerts, he'll return to the mainland for a summer stretch with veteran act 311.
The Star-Bulletin caught up via telephone with Matisyahu last month in New York, where he was driving himself to Best Buy to return a computer he had bought a few days earlier.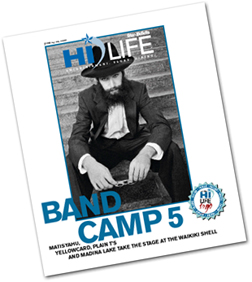 QUESTION: How is 2007 treating you so far?
ANSWER: Well, it's been going great. I've gotten cleared up with some stuff early on that I had to take care of. I got a new manager ... we got some new additions to the band, and we're getting set to start writing the new record.
We also went into some new territories. We went back to Israel again, we went out to South Africa and we spent a lot of time in South America. And now we're coming out to Hawaii.
Q: Was that always your ambition, to take your music to a global level?
A: Yeah, I think it was. I've always kind of had this dream about traveling the world ... actually playing music for a living, and not just going there for a vacation.
Q: What was it that attracted you to reggae music?
A: Reggae music was a love that I found when I was about 14 years old. It opened me up to that whole dimension of spirituality and culture.
Q: When did you become religious?
A: I didn't become religious until I was about 22, when I was already finished with college. I went as far as I could with it. ... I moved into a religious neighborhood that was kind of cultish, with all these religious guys with no money. I spent like 10 to 12 hours a day learning Torah, and that was it. I spent almost two years doing that.
Q: Do you feel as if you're a role model for the Jewish community?
A: Yeah, I think so. Within Jewish music ... creativity has been kind of been stale for a while. There are kids who have never thought about doing (music), who see me and think that they could do it.
Q: "Live at Stubb's" was the record that put you on the map. Did you think you'd get the reaction you did from mainstream audiences?
A: Yeah, I thought so. We were touring and playing in small clubs all over the country ... six nights a week, and we were getting crowds turning up to those shows. We'd have 150 people show up in Kansas City, which wasn't normal for a band that was unsigned and didn't have any distribution or radio play.
So the feeling was that if we could transfer the feeling of a live show to a record and put it out there, people were going to love it. And that's exactly what happened.
Q: You mentioned earlier that there have been some changes to your band. How will that affect your next album?
A: Well, we got a new drummer and we added a percussion player ... so our rhythm section has really expanded and gotten stronger. We also got a keyboard player on board in the past year.
I've been working on ideas ... (the new album is) going to be a theme-driven record. It's been more my style to write free-association.
Q: So it sounds like you've flipped the script a little bit.
A: Yeah, I'd always get my inspiration from the music, and then I would kind of just write. Now, I'm developing the ideas and the lyrics ahead of time, and then I'm going to develop the music after and try to make it fit.
Q: Has it been harder than you thought?
A: I didn't expect it to be easy. It's basically taking the spiritual work that I'm doing and just trying to get it out there and make something creative out of it. That's what I did with the other records, but this one will be just a little bit more developed.