| | |
| --- | --- |
| | Island Mele |
---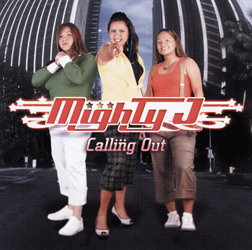 Calling Out
Mighty J
(Daddy Records DRCD-42180)
That Mighty J debuts with a polished, well-crafted album is no surprise, given the trio's pedigree. Jenn "J-RoQ" Wright was a founding member of Kanalo, a generic Jawaiian band that nonetheless won a KCCN FM100 talent contest, and she has since done much more substantial work as solo singer/percussionist J-RoQ. Mailani Makainai is one-half of the Na Hoku Hanohano Award-winning pop duo Keahiwai. Add vocalist Tiare "Tiki" Suan, producer/studio guru Dr. Trey, and an assortment of studio musicians, and the result is an album good enough to make the national pop charts but with enough Jawaiian rhythms to give the trio a shot at local radio play.
The three share lead vocals and harmonize smoothly through a series of memorable selections. The title track addresses social issues -- anorexia and bulimia among them. "Baby I'm Gone" is a lovingly detailed revenge fantasy ("We took the blender, the computer and your favorite couch ... (and) celebrated with a smoothie"). Other original songs describe the real-life complexities of relationships in mature, articulate style.
With "Girls' Night Out" they also show their appeal as an edgy urban-style club act. With 2007 almost half over, Mighty J is the year's most impressive new local act.
---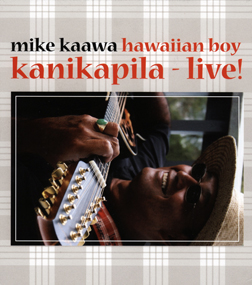 Kanikapila - Live
Mike Kaawa Hawaiian Boy
(Rhythm & Roots RR-0311)
After recording solo albums for several labels, Hawaii's self-styled "Hawaiian Boy" has a "live" album that captures his talent, his rich, well-worn voice, and his personal appeal perfectly. Although the album was not produced to create the impression of listening to a single uninterrupted set, it provides a good sense of what it's like to catch Kaawa and his band -- Ocean Kaowili (guitar), Paul Kim (steel guitar) and Analu Aina (electric bass) -- at the Koolau Golf Club or a slack-key festival.
Medleys figure prominently. The strongest in terms of establishing a recognizable theme combines two hapa-haole standards, "Maui Girl" with "I'm Going to Maui Tomorrow." Kaawa's ad-libbed lyrics for "Maui Girl" add broad local-style comedy, and his scat vocalizing on the latter song gives it a comic, nostalgic ambience.
Kaawa also distinguishes himself as an arranger with his zesty version of "Wahine Ilikea," and with a reworking of "Haleiwa Hula" that is closer to the blues than to hapa-haole hula music. Great work on both.
His renditions of "Keleana Kai" and "Keawaiki" are beautiful as well.
---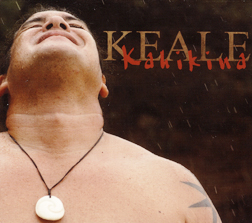 Kahikina
Keale
(Rhythm & Roots RR-0312)
Keale is a nephew of the late Moe Keale. For this project he has dropped his haole name and, like many Hawaiians prior to the overthrow, is going by a single name instead of two. Keale's connection with his famous uncle can be heard in his voice and singing style; keen ears will also detect the influence of two of Moe's other nephews, Skippy and Israel Kamakawiwo'ole. Keale is bringing their legacies forward rather than replicating them, and with several talented musicians backing him does excellent work throughout.
Keale demonstrates his skill as an arranger with fresh uptempo takes on "E Kuu Morning Dew" and "Hawaii '78." He reaffirms his support of Hawaiian nationalism elsewhere with "3 Canoes" and "Mele Tutu," and explains some of their kaona (hidden meanings) in the liner notes.
Family is another theme. "Uncle Moe," written by Del Beazley, is a fine tribute although it is jarring at first to hear Moe apparently responding to the lyrics. Keale also evokes memories of IZ as he introduces the final unlisted track with a narrative passage about his ohana, and the many family members who are now deceased, before playing a solo acoustic arrangement of "Over The Rainbow"/"What a Wonderful World."
John Berger
, who has covered the local entertainment scene since 1972, writes reviews of recordings produced by Hawaii artists. See the Star-Bulletin's Today section on Fridays for the latest reviews. Reach John Berger at
jberger@starbulletin.com
.