'Rebel Girl' back in Honolulu for 21-and-over show
AS ONE local artist departs for the mainland, another returns to the islands for a homecoming show. On Tuesday, I told you about
Makana's
decision to move to California.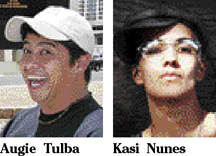 Now
Kasi "Rebel Girl" Nunes
is back in Honolulu for one performance at Ong King on Friday.
Nunes moved last August with her band, X-Factor, in an effort to become more involved in the Hollywood music industry machine. She started performing during "Rebel Girl Underground" parties in 2003 and 2004.
X-Factor has enjoyed reasonable success since the move, performing regularly at various venues (for example, the band just played at Johnny Depp's Viper Room on Sunday). They released a live album last September, and hope to finish recording new material later this year.
Doors open at 9:30 p.m. Friday at Ong King, with a portion of the cover charge going to GirlFest Hawaii. Local acts Tempo Valley, Paula Fuga, Nadeshiko and Sewa Fare will also perform.
This one is a 21-and-over party; call 306-7823 ...
FRESH OFF the success of "The Main Event" at Blaisdell Arena, comedian Augie Tulba is setting his sights on the dinner date crowd.
Starting this week, fans will be able to enjoy a nice meal at Aaron's atop the Ala Moana Hotel, then proceed to laugh those calories off with Tulba. "Comedy Near the Moon" starts with a five-course fine-dining experience at 7 p.m., followed by Tulba's live set at 9 p.m.
Don't want to pay $75 for dinner and a show? Check out the comedy alone for $30, which includes a complimentary drink.
And don't forget about "Taste," the late-night weekend party hosted by Peter Maharaj and Roni Yurong following the show that goes until 4 a.m. Call 955-4466 ...
CONGRATS TO the Makaha Sons, who headline their fifth "Take a Walk in the Country" concert at the Waikiki Shell this weekend.
Doors open at 5 p.m. on Saturday, with the concert starting at 6:30 p.m. Special $125 VIP ticket packages include table seating and a catered dinner. Those tickets, along with the $45 reserved seats, also come with a copy of the Sons' "Live at the Hawaii Theatre" DVD.
Can't afford those prices? Don't worry, the Sons have kept lawn seating reasonable -- those tickets are just $20. And you still get to enjoy guest performances by Keali'i Reichel, Melveen Leed and Hoku Zuttermeister ...
MORE FRIDAY PICKS: Local radio personality Crystal Akana will celebrate her birthday with Lalea and Maui's Nuff Sedd at Boardriders Bar and Grill ... "Trip the Lights: Beat Root 5" goes down at the rRed Elephant, with live performances by Nomasterbacks and Rhyme Da Old Man ... "Frequency" returns to Sound|House with DJs Ross Jackson, Eskae, Money and Vagina, and a special live set by singer Anton Glamb ...
AND ON SATURDAY: All-ages promoters Unity Crayons return to Coffee Talk after a year-long hiatus, which was brought about by what has apparently turned out to be unsubstantiated complaints from a neighboring business. Black Square, White Rose, Smitz, Dolls Till Daylight and Democratic Fistfights will play starting at 8 p.m. ... IONA Dance Company teams with E&O Trading Co. to present "Afro-disia," a night of drinks and dancing featuring the cocktail creations of master alchemist Joey Gottesman. The party's $200 tickets include food, hosted bar, party favors and aspirin ... Shawn Felipe headlines "Comedy Renegades" at Cheerleaders Sports Bar in Salt Lake, starting at 7:30 p.m. He'll be joined by fellow stand-up comics Lanai Tabura, Stan Egi and the On the Spot comedy troupe ...