---
FAST FACTS HAWAII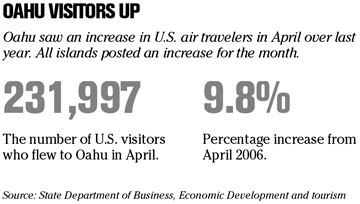 ---
Interisland fares back to $19
Just days after
go!
shook up the interisland market with $1 one-way airfares, the carrier has followed that up with a Web-only special of $29 on select flights and $19 on more than 30 flights.
Both Aloha Airlines and Hawaiian Airlines matched the $19 fares.
For all three carriers, the special fares are good for travel from today through June 30 and must be purchased by midnight tomorrow. The fares exclude applicable fees and taxes. Seats are limited.
[ HAWAII INC. ]
NEW HIRES / PROMOTIONS
» Starwood Hotels & Resorts has announced the following promotions:
Dale Carstensen
to director of sales and leisure for Hawaii and French Polynesia. He previously served as director of sales and marketing for Asia and leisure for the Sheraton Hotels & Resorts Waikiki and has held several positions with Sheraton since 1977.
Karin Jones
has been promoted to account director of leisure sales. She previously served as senior sales manager in the Starwood regional sales office and has held several positions with Sheraton since 1990.
» Xerox Hawaii has promoted Kari Ann Hatta to marketing representative from marketing programs and project coordinator. She will provide new and existing clients in East Oahu with document management solutions. She previously served as sales associate for Ann Taylor.
» State Farm Insurance has announced the following promotions: Kim Cummings has been promoted to agency field executive. She will oversee agents in the Leeward and West Oahu areas, parts of Honolulu and on Maui. She has served State Farm since 1987. Laura Kunewa has been promoted to agency field executive. She will oversee agents in Windward Oahu, parts of Honolulu and on Kauai. She has worked with State Farm since 1999.
» Team Vision has announced the following new hires: Melissa Torres has been hired as assistant account executive. She will be responsible for coordination of the company's Castle & Cooke Homes Hawaii account. Ephraim Botulan has been hired as account coordinator. He will be responsible for providing clients with monthly reports and research as well as assisting account supervisors in managing accounts.
» Kuakini Health System has named Jan Pang as risk and safety manager. She will be responsible for ensuring the hospital's environmental and patient safety. She joined the hospital in 1972 and has served as infection control coordinator for 19 years.
AWARDS / CERTIFICATIONS
» The A&B Foundation has awarded $10,000 to the
Agricultural Leadership Foundation of Hawaii
in support of its program. For 25 years, the foundation has provided a statewide multi-disciplinary leadership training program for those working in agricultural businesses and organizations, as well as sectors that impact agriculture.
» Junior Achievement of Hawaii has received a $4,400 grant from the Bernice and Conrad von Hamm Fund of the Hawaii Community Foundation. Through its programs, Junior Achievement of Hawaii teaches students in Kindergarten through 12th grade about business, economics and the free enterprise system.
---
Goldman buys into timeshare firm
NEW YORK »
Goldman Sachs Group Inc.
's Whitehall real estate fund said it made a "substantial" investment in Consolidated Resorts Inc., the time-share resort developer owned by closely held
ASNY Corp.
of Las Vegas.
Consolidated Resorts, founded in 1982, operates nine vacation ownership properties in Hawaii, including the Imperial Hawaii in Waikiki, as well as others in Las Vegas and Orlando. Some of ASNY's assets and non-timeshare assets owned by Spector aren't included in the new venture.
Terms weren't disclosed. The companies formed a joint venture called ASNY Holdings LLC that will be managed by Arthur Spector, ASNY's founder, chairman and chief executive officer, Goldman said yesterday.
Mortgage rates hit 11-month high
WASHINGTON » Rates on 30-year mortgages rose for a fifth straight week, hitting the highest level in 11 months as prospects dimmed further for possible rate cuts from the Federal Reserve.
Mortgage giant Freddie Mac reported today that 30-year, fixed-rate mortgages averaged 6.74 percent this week. That was up from 6.53 percent last week, and marked the biggest one-week rise in 30-year rates in more than three years.
Rates on 15-year, fixed-rate mortgages, a popular choice for refinancing, rose to 6.43 percent, up from 6.22 percent last week. Five-year, adjustable-rate mortgages averaged 6.37 percent, up from 6.24 percent. One-year, adjustable mortgages rose to 5.75 percent, up from 5.65 percent last week.
Adobe's profit and revenue jump
SAN FRANCISCO »
Adobe Systems Inc.
reported a 24 percent surge in second-quarter profit yesterday, setting a record in revenue and exceeding expectations.
Net income for the three months ending June 1 was $152.5 million, or 25 cents a share, up from $123.1 million, or 20 cents a share, in the same quarter of last year. Second-quarter sales were a record $745.6 million, up 17 percent from $635.5 million in the second quarter of 2006, the previous overall record.
Excluding costs for expenses, such as restructuring charges related to the December 2005 acquisition of Macromedia Inc., profit was $223.2 million, or 37 cents per share, compared with $189.4 million, or 31 cents per share, in the year-ago quarter.
YouTube tests political waters
SAN FRANCISCO » YouTube users will get a chance to grill U.S. presidential candidates in debates the online video site will host with CNN starting next month.
Democrats will go first in a July 23 event in Charleston, South Carolina, YouTube and CNN said yesterday in a statement. The Republican debate will take place Sept. 17 in Florida. CNN, the cable news channel owned by Time Warner Inc., will pick questions from users who submit videos to Google Inc.'s YouTube by July 22.
---
BUSINESS PULSE