---
FAST FACTS HAWAII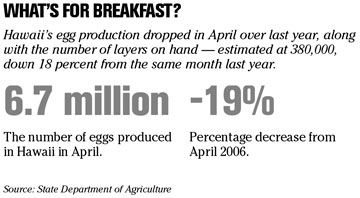 ---
Hawaiian Air traffic jumps
Hawaiian Airlines
filled 86.6 percent of its seats in May -- slightly down from a year earlier -- but the number of passengers it transported jumped 16.9 percent from the year-earlier period.
The airline said 587,017 passengers traveled systemwide, up from 502,108 in May 2006. Its load factor of 86.6 percent was down 0.2 percentage points from 86.8 percent a year earlier.
Hawaiian's available seat miles -- one seat transported one mile -- increased 19.8 percent to 776.6 million from 648 million while its revenue passenger miles, or the total miles flown by paying passengers, rose 19.6 percent to 672.7 million from 562.5 million.
[ HAWAII INC. ]
NEW HIRES / PROMOTIONS
» Summa Hawaii has hired
Marie Siu
as procurement specialist and operations director. She will be responsible for materials procurement, project management and preparation of proposals for the company's refurbishment and consulting projects. She has more than 20 years of experience in the design and construction industries in public and private sectors.
» Tiki's Grill & Bar has promoted Kaeo Gouveia to general manager from assistant general manager. He will be responsible for overall operations and creating a strategic growth plan for the restaurant. He joined the restaurant in 2002 as a floor manager and is a member of the Hawaii Restaurant Association and the American Marketing Association.
» Aqua Hotels & Resorts has announced the following new hires and promotions: Alvida Surpia has been named general manager of Aqua Coconut Plaza. She previously served as general manager of Aqua Bamboo & Spa and has held management positions with Ala Moana Hotel and King George Hotel in San Francisco. Courtnay Koski has been hired as hotel manager of Aqua Aloha Surf. She previously served as director of sales and marketing at Hersha Hospitality in Boston. Dawn Sakaue has been hired as guest services manager of Aqua Palms & Spa. She previously served as talent coach and manager-on-duty for the W Honolulu Diamond Head hotel. Joy Adler-Jewitt has been named AquaSPA manager. She previously served as night manager of Aqua Bamboo & Spa and as desk supervisor at The Kahala Hotel.
» Napili Kai Beach Resort has named Craig Erickson as executive chef. He will oversee all culinary and catering functions of the resort, including it signature beachfront Sea House Restaurant. He previously served as executive chef at the Lahaina Store Grille & Oyster Bar on Front St. in Lahaina.
» Bank of Hawaii has announced the following new promotions: Martha M. Nobriga has been promoted to vice president of Bank of Hawaii Insurance Services from assistant vice president. She previously served as a marketing underwriter for First Insurance Co. as an account executive at Marsh USA. Rovena U. Olinger has been promoted to vice president of the Waipahu branch from assistant vice president. She previously served as branch manager for the in-store branch at Safeway Mililani.
» Nishikawa Architects Inc. has promoted John Morgan Gerdel to principal from associate. He joined the firm in 2000 and is an associate member of the American Institute of Architects.
---
Southwest says growth may slow
DALLAS » The CEO of
Southwest Airlines Co.
said yesterday that the low-cost carrier could be forced to put the brakes on growth because revenue isn't rising as fast as expected.
Southwest has been growing about 8 percent a year by adding planes and serving more cities, but occupancy on its planes has fallen, and it can't raise fares enough to cover increased fuel costs.
Chief Executive Gary Kelly said company officials set their 2007 plans assuming a stronger economy, "and if that's not going to be the case, then we'll need to make some adjustments." Southwest is still a growth company, Kelly declared, but 8 percent "is not a magic number."
Kellogg to stop sugary ads
BATTLE CREEK, Mich.»
Kellogg Co.
, the largest U.S. cereal maker, said it will stop marketing foods high in sugar, fat and calories to children under 12, avoiding a potential lawsuit from two consumer groups.
Kellogg said yesterday in a statement that it will make Honey Smacks cereal, Yogos fruit snacks and other products healthier by the end of 2008 or stop promoting them to kids through the use of cartoon characters.
The Center for Science in the Public Interest and the Campaign for Commercial-Free Childhood threatened to sue Kellogg last year as sugary, fatty foods have contributed to childhood obesity. Half of Kellogg's products it markets to kids don't meet the new standards.
U.S. carmakers to cut labor costs
DETROIT » General Motors, Ford and Chrysler will seek labor cost reductions that put them on par with their Asian rivals during summer contract talks with the United Auto Workers, officials of the three automakers said yesterday.
Ford Motor Co. and Chrysler Group officials told The Associated Press of their plans to secure concessions on wages that have left them at a competitive disadvantage.
A General Motors Corp. spokesman said the company wants to reduce costs to the level of the Japanese automakers such as Toyota Motor Corp.
---
BUSINESS PULSE