| | |
| --- | --- |
| | Wood Craft |
---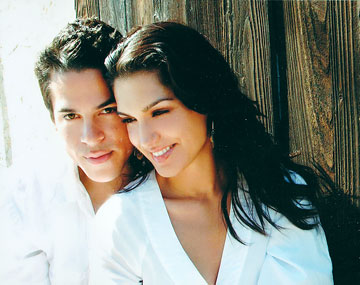 Paulo Fagundez and Summer Jensen
Summer Jensen will hold wedding celebration in isles
SUMMER JENSEN
, daughter of the late entertainer
Dick Jensen
and
Judy Jensen,
married
Paulo Fagundez
, originally from Sweden, in a small ceremony Jan. 5 in Las Vegas. They live in L.A. and are sending word to family and friends that they will hold a celebration here Nov. 24. The date near Thanksgiving was chosen because that's when Judy and the couple's friends who live on the mainland can make the trip. Paulo's mom will be here from Sweden. Paulo was a national swimming champ in Sweden. His sister,
Gabriella,
is following in his footsteps and is expected to make Sweden's Olympic team ...
Iva Kinimaka
is on top of the world because his daughter,
Chamonix Mele Kinimaka,
received her M.D. from Temple University's Medical School in Philadelphia May 18. Mele is a graduate of Kaiser High and San Diego State. She was the inspiration for Iva's hit song, "He Aloha Mele," which he wrote and recorded. Mele and husband,
Chad Anke,
live in Brooklyn. She is scheduled to start her surgery residency at New York Methodist Hospital July 1 ...
Carlos Barboza
, a former
Alii
and now performing with
Augie Rey
and
Bobby King
, quietly married Dream to Dance Studio owner
Debby Borges
on Easter Sunday at Portlock beach. Anytime Carlos does anything quietly it's news. Debby is singer
Jimmy Borges'
cousin ...
MIHANA TO SHARE HER MOM'S LEGACY IN CONCERTS
MIHANA SOUZA
is looking forward to her concerts June 22-23 at the rRed Elephant with a passion. "It's been six years since mommy passed away," she said. "It takes a long time to get over that. I think it's a good time to come together as a family and share the legacy that she gave to us, which is not only her music, it's our music and the music of Hawaii." Mihana's mom was
Irmgard Farden Aluli
, the noted composer-singer-musician. Mihana is a veteran performer, following in her mom's footsteps. This is the first concert in which she is starring. "I'm really scared," she said. Mihana will have strong vocal-instrumental support from her family group
Puamana
,
Kahala Moon
with her daughter
Mahina
, the remarkable 99-year-old
Bill Tapia, David Choy,
Jeff Peterson, Ernie Provenchure, Jeff Auhoy
and
Adam Baron
. Showtime is 7:30 p.m. Call 550-8457 or 489-9563 for tickets priced at $38 ...
Ben Wood
, who sold the Star-Bulletin in the streets of downtown Honolulu during World War II, writes of people, places and things in our Hawaii. E-mail him at
bwood@starbulletin.com