---
FAST FACTS HAWAII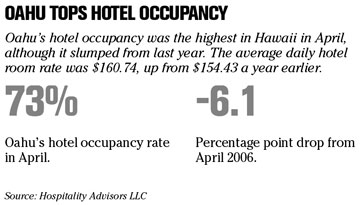 ---
United adds Denver nonstop
United Airlines
has begun new daily nonstop service between Denver and Maui.
The carrier, which already flies between Denver and Honolulu, started the new route last Thursday.
The flight leaves Denver at 11:30 a.m. and the return leg departs Maui at 8:25 p.m.
---
Pilots picket Alaska Air
ANCHORAGE, Alaska » Dozens of pilots dressed in their dark blue uniforms and caps formed picket lines Tuesday outside
Alaska Air Group
's annual shareholder meeting, held this year in Anchorage to mark the company's 75th anniversary.
Two years ago, the pilots were forced to take an average 26 percent pay cut. Now that Alaska Air Group is making money, the pilots contend it is time the company gave back.
Alaska Air Group wants a contract that won't increase costs. Chairman and Chief Executive Bill Ayer declined to predict when the company might make an offer.
Study: Bank branches matter
NEW YORK » Bank customers prefer to buy financial products in branches because they're unsatisfied with the quality of service from call centers and online sites, a new study spanning 17 countries shows.
Retail branches were the preferred place to sign up for checking and savings accounts among 63 percent of the 2,000 consumers surveyed by New York-based consulting firm Booz Allen Hamilton. Fifty-four percent preferred branches for buying mortgages.
"The branch is declining in importance, but banks are failing to capitalize on the enormous potential of key growth channels such as online and mobile sales forces," said Alan Gemes, a vice president at Booz Allen.
Lehman profit climbs 27 percent
NEW YORK »
Lehman Brothers Holdings Inc.
, the nation's fourth-largest investment bank, says robust stock trading and buyout business pushed second-quarter profit up 27 percent, in what may be a harbinger for other brokerage earnings due out this week.
For the three months ended May 31, profit after paying preferred dividends rose to $1.26 billion, or $2.21 per share, from $986 million, or $1.69 per share, a year earlier.
Gains from stock trading amid a record run on Wall Street, as well as fees charged to companies for advice on takeover deals, helped drive Lehman's business during the quarter.
Ford reviews Jaguar, Land Rover
LONDON »
Ford Motor Co.
said yesterday it was reviewing its position on Jaguar and Land Rover, and union officials pressed for more information amid reports that the two brands were up for sale.
"We are working with our financial advisers on the best options for Jaguar and Land Rover, and nothing is ruled out," said John Gardiner, a spokesman for Ford's Premier Automotive Group. Prime Minister Tony Blair's office said it was in touch with Ford about the review.
Ford had previously had denied any plans to sell Jaguar and Land Rover.
---
BUSINESS PULSE